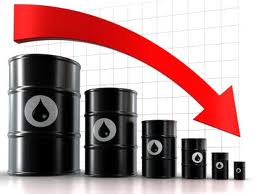 26 April, 2013, London – After gaining $3 in the past two sessions, UK's Brentcrude oil went below $103 per barrel on Friday with investors cautious over the tepid outlook for growth in the world's two largest oil consumers, the US and China.
Brent is set for its biggest weekly gain since November, but is still 7% off levels at the start of April after a string of disappointing data stoked fears of global economic slowdown, according to Reuters.
Brent had slipped 44 cents to $102.97 per barrel by Friday morning, after touching a low of $102.89, while US crude for June delivery stood at $93.32, down 32 cents.
"We're going to see more caution in the commodities market in the coming week," Reuters quoted ANZ analyst Natalie Rampono as saying.
"We know what is happening in Europe but we're uncertain about growth prospects in China and the US and that's probably also why Brent is underperforming WTI (West Texas Intermediate)."
Brent's premium to US crude futures settled on Thursday at below $10 for the first time since January 2012.
Weak economic data from China and the euro zone have weighed on Brent, while better-than-expected US data and the easing of a supply glut at Cushing, Oklahoma, the delivery point for US crude futures, have buoyed the US marker.
Reuters market analyst Wang Tao said technical charts had shown that Brent was expected to retrace to $102.06 per barrel, as it faced resistance at $103.07.
US crude is on track for its largest weekly rise since July 2012 and prices could climb further if first quarter gross domestic product (due for release later on Friday) growth meets expectations.
Economists expected a 3% annualised pace of growth in the previous quarter, according to a Reuters survey.
"It's quite a big jump and if it comes in line with expectations that will be supportive for markets," ANZ's Rampono said.
Oil was also supported by a tightening of global spare inventories over the last two months, according to a report from the US Energy Information Administration, as well as by ongoing tensions in the Middle East.
Members of the US Congress are calling for action on Syria after a report showed the likely use of chemical weapons by the Syrian government.
"The Syria situation has been ongoing and the market has priced in to a certain extent," Rampono said.