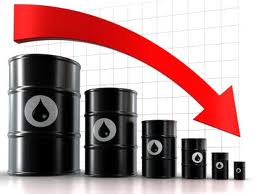 17 April 2013, London – UK Brent crude dropped under $99 per barrel, Wednesday, over expected slowdown in fuel demand in the world's top two leading economies, United States and China.
Also, the IMF has trimmed projections for this year and next, implying a slowdown in oil demand growth.
Brent crude shed $1.63 to $98.28 by 1457 GMT, after sinking earlier to $98.13, the weakest since July 2012. US crude slipped $1.40 to $87.32.
The North Sea benchmark has lost nearly 6% over the past five sessions in a wider commodities rout triggered by data showing growth in China, the world's second-largest oil burner, had slowed unexpectedly in the first three months of 2013.
"At the moment the oil complex is in a technical downtrend with the fundamentals being driven by a deteriorating demand projection in a robust supply environment," said Dominick Chirichella of Energy Management Institute.
The head of the International Energy Agency, Maria van der Hoeven, said the oil price decline was proof that the market was adequately supplied.
"For now there is no immediate reason – other than short covering – to suggest that oil prices are ready for strong move to the upside," said Chirichella.
While further weakness in Brent crude cannot be ruled out, oil prices are unlikely to fall below the $100 a barrel mark past the second quarter, Barclays said in a note on Tuesday.
A pick-up in hedging activity from consumers who have been waiting on the sidelines for better entry points for their hedging programmes could help support prices, it added.
"The second layer of support is likely to come through market expectations surrounding comfort levels for OPEC producers to continue producing above their target, below the $100/bbl, which they have lately mentioned as appropriate for both consumers and producers," according to Barclays.