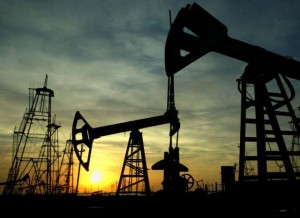 05 April 2013, News Wires – Brent crude edged up toward $107 per barrel on Friday after hitting a five-month low in the prior session, but prices were headed for their worst week in a month as bleak US data and bulging inventories dimmed the outlook for demand.
Data from top oil consumer the US has been dull all week long, with weaker-than-expected growth in manufacturing activity, disappointing private sector hiring and higher jobless claims. A surge in US crude inventories to the highest since 1990 has further pressured prices.
"Commodity markets are telling us the real story, and that is there is simply no demand out there," said Jonathan Barrat, chief executive of Sydney-based commodity research firm Barrat's Bulletin.
"There has been no real substance to the stimulus, because the level of economic activity is clearly reflected in the data we've seen coming through all this week."
Brent rose 14 cents to $106.48 a barrel early on Friday, off an earlier high of $106.65. It dropped to a five-month low of $105.29 on Thursday.
The benchmark is set for a weekly loss of more than 3%, its biggest drop since early March.
US crude oil was up nine cents at $93.35 a barrel, but down almost 4% for the week — its largest weekly fall since October.
Even an aggressive move by the Bank of Japan to pump more than $1.4 trillion into the economy in less than two years failed to lift investor confidence.
"That initial euphoria from the start of the year is gone, and investors are now risk off and rightly so, the BOJ stimulus is aggressive but what does that really mean, in terms of real economic activity?" Barratt said.
"What we'll be watching for today is the unemployment numbers tonight," he said, referring to the key US nonfarm payrolls data.
A Reuters poll predicts a 200,000 increase in US jobs last month, down from 236,000 in February, but still well above the monthly normal average in recent years.
Investors are also keeping an eye on escalating tension on the Korean peninsula and a standoff between Iran and the West over Tehran's disputed nuclear programme.
World powers meeting later on Friday in the Kazakh city of Almaty will urge Iran to accept their offer to ease some economic sanctions if it ceases its most sensitive nuclear work.
Although there is little chance of a breakthrough, the six powers. the United States, Russia, China, France, Britain and Germany, will be mindful of Israel's impatience with the current diplomatic efforts.
"This is always going to be in the back of the minds of investors, this quarter we should expect to see heightened tensions on the geopolitical front," Barratt said.
"Barack and Netanyahu really came together when they met in March, and they understand just what is at stake."
Investors are also increasingly wary of North Korean risks since the North decided to ban entry to workers from the South to their joint industrial complex, and Washington made military moves and remarks showing that it takes Pyongyang's threats to attack the United States seriously.