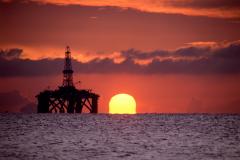 25 June 2013, News Wires – Brent crude slipped below $101 a barrel on Tuesday, as fears of a liquidity crunch in China and the US Federal Reserve's plans to roll back its stimulus sparked concerns about demand from the world's top oil consumers.
Oil prices have dropped more than $6 from last week's high to Monday's three-week low, following the Federal Reserve's signal that the era of cheap central bank money – which has driven global investment in commodities – was coming to an end.
The declines were exacerbated by worries over China's attempt to rein in excessive credit growth.
"People are more comfortable that the US has hit a sustainable recovery, but China is looking worse. Still, in the US even though its economy looks like it's recovering, oil demand isn't, so seems like market is fundamentally weak," said Tony Nunan, oil risk manager with Mitsubishi Corporation in Tokyo.
Brent crude slipped 29 cents to $100.87 a barrel after reaching a session low of $100.83 earlier on Tuesday, not far from a three-week low of $99.67 hit on Monday. US oil dropped 48 cents to $94.70 a barrel.
"I think $100 is the support level for Brent. A lot of the oil price weakness has to do with the situation in China with the macro picture not looking good," Nunan said.
China shares extended losses on Tuesday, sinking to their lowest levels since early 2009, with the financial sector hard hit by worries an official crackdown on easy credit and tighter funding conditions will persist.
A firmer dollar after the Fed outlined a possible timeline for the central bank's winding down of its stimulus programme has also piled up pressure on commodities priced in the greenback by making them more expensive for holders of other currencies.
"At the same time, bullish positioning and flows into the WTI-Brent trade are exacerbating the pressure on Brent," Morgan Stanley analysts said in a note on Monday.
WTI's discount to Brent narrowed to $5.91 a barrel on Monday, its smallest since November 2011, before widening to $6.17 on Tuesday.
US oil prices, however, drew some support from news of record flooding in Canada's main oil-producing province.
Major oil Canadian pipelines that move almost 1 million barrels per day of Alberta oil sands crude, much of it bound for the United States, remained shut on Monday after a spill on a smaller line was discovered on the weekend, a spokesman for operator Enbridge said.
US commercial crude stocks likely fell two million barrels on average for the week ended 21 June due to lower imports and higher refinery activity, a Reuters poll of six analysts showed on Monday.
Growing fears Syria's civil war is dragging in other countries, with deadly bomb attacks in Iraq and fighting in Lebanon, also cushioned oil prices.