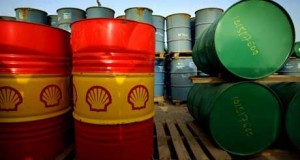 12 November 2014 – Brent crude fell towards $81 a barrel on Wednesday, holding just above a four-year low as concerns over a mounting oil glut outweighed geopolitical and supply disruption risks in Ukraine and Libya.
With oil prices having fallen 30% from a mid-June peak, whispering among Opec delegates ahead of its 27 November meeting is starting to suggest it could cut production by around 500,000 barrels a day, bringing its daily output closer to the official target of 30 million bpd.
But delegates within Opec also warned an agreement will not be easy, and analysts doubt members will take decisive action.
"The consensus view is Opec won't take any action, or if it does, not big enough or sufficiently definitive to have too much impact on prices," said Ric Spooner, chief market analyst at Sydney's CMC Markets.
Brent crude for December delivery fell 45 cents to $81.22 a barrel early on Wednesday. It dropped 67 cents on Tuesday after first touching $80.46, its lowest since September 2010.
US crude was down 47 cents at $77.47.
The markets were still assessing if an Opec cut of 500,000 bpd would make oil prices more vulnerable to the impact of potential supply disruptions caused by geopolitical risks in Libya and other oil producers, Spooner said.
Exports were still blocked at Libya's 120,000 bpd Hariga port by protesters involved in a wages dispute although talks to resolve the issue were underway, an oil official said on Tuesday. The El Sharara oilfield was also still closed.
European Union foreign ministers will meet next week to discuss the possibility of more sanctions on oil and gas producer Russia over the continuing conflict in Ukraine.
Heavy shelling has resumed in eastern Ukraine this past week around the pro-Russian separatist stronghold of Donetsk, and Kiev has said rebels there have been rearmed and were supported by "Russian mercenaries".
US oil inventory data due out later Wednesday and Thursday could show a build in crude stocks of 800,000 barrels in the week ended 7 November, according to a Reuters poll of analysts.
*Reuters