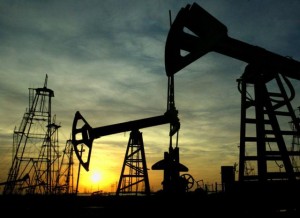 26 July 2013, News Wires –
Brent crude held steady above $107 a barrel on Friday as a weak dollar and supply disruptions at some Middle Eastern and African oil producers offset worries about China's economic slowdown and decades-high oil output in the US.
The dollar slipped to a one-month low against a basket of major currencies, encouraging holders of other money units to buy dollar-denominated commodities such as oil.
Brent crude for September delivery edged up 12 cents to trade at $107.77 a barrel early on Monday, after posting a 46-cent gain on Thursday. US crude for September was at $105.55 a barrel, up 6 cents.
But despite the weaker dollar and supply disruptions from Libya to Iraq, Brent is headed for a second weekly decline and US crude could post its first fall in five weeks, as economic slowdown in China dragged on prices.
"The market is focused on demand rather than supply," ANZ analyst Natalie Rampono said. "The weaker flash PMI numbers out of China on Wednesday is contributing to that weakness and keeping prices under a little bit of pressure."
China's manufacturing activity hit an 11-month low in July and its job market weakened, according to preliminary data from HSBC, raising concerns of slower demand growth in the world's second-largest oil consumer.
Rising crude supply in the United States has also pressured prices. US crude output hit its highest since 1990 while weekly crude inventories showed a much smaller fall than in previous weeks in the week to 19 July, data from the US Energy Information Administration showed on Wednesday.
"We see risks to the downside for oil," Rampono said, with peak seasonal demand in the United States ending and refinery maintenance to start soon.
The US Federal Reserve's policy meeting next week could provide some clues on when the United States will start to trim its monthly bond purchases, a move that may tighten liquidity and boost the US dollar, which would pressure oil further.
Economists in a Reuters poll said September is still the most likely time for the Fed to announce that it will trim its monthly bond purchases.
Supply disruptions in the Middle East and Africa, meanwhile, are underpinning oil prices along with weak US currency.
Crude exports from Iraq will be cut by between 400,000 and 500,000 barrels per day in September due to maintenance at ports, while Yemen's key export pipeline has been blown up by tribesmen.
Protests in Libya have also halted oil exports from a key port, and South Sudan is set to stop crude output by 7 August in a dispute with Sudan.
Traders are also eyeing protests in Egypt on Friday for any signs of conflict spillover into the Middle East that could threaten oil supply.