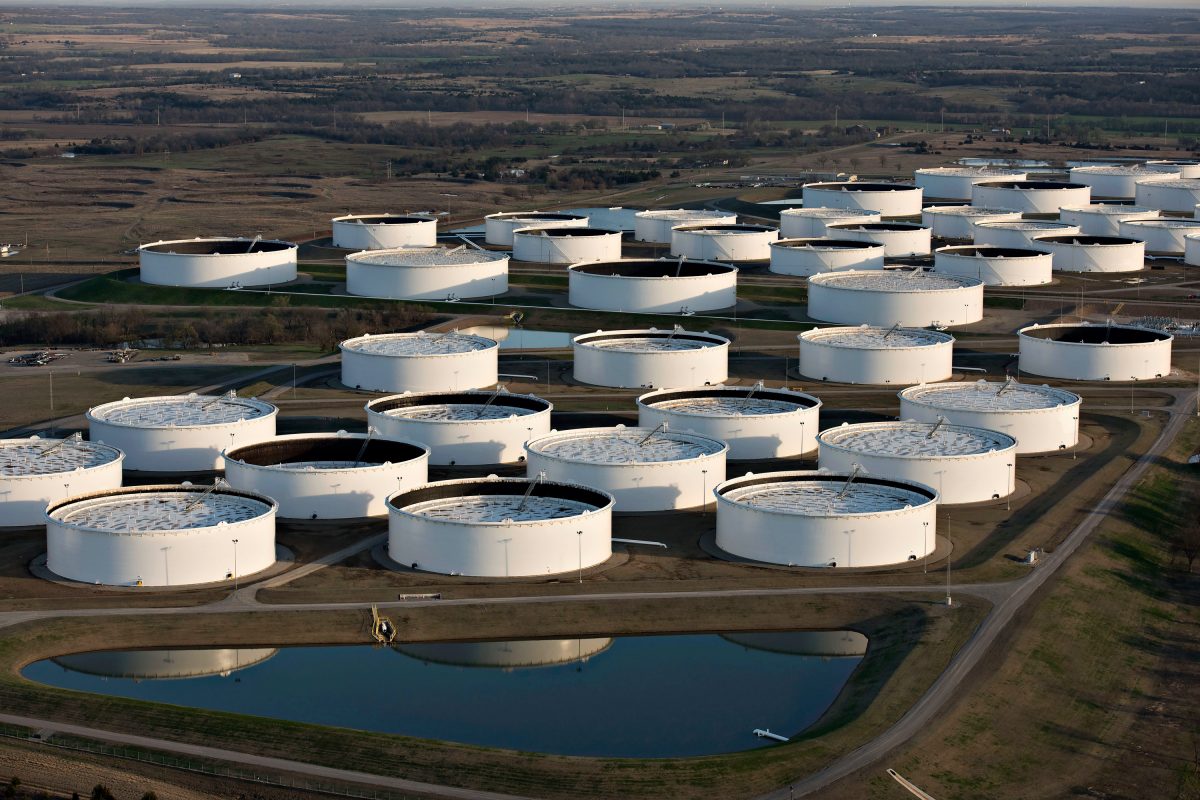 SINGAPORE — Oil in London traded near a 21-year low as the global benchmark was sucked into the rout that sent U.S. futures below zero for the first time ever this week.
Brent for June delivery slumped as much as 17%, before paring losses to trade near $19 a barrel. West Texas Intermediate crude fell 2.9% in New York, having lost almost half its value on Tuesday. Prices continue to slide amid fears that the massive glut that sent May WTI to as low as minus $40.32 on Monday is only going to get worse.
With global demand crushed by coronavirus lockdowns, concerns that the unwanted oil is going to overwhelm storage capacity have triggered a selling frenzy. Oil ministers from the OPEC+ coalition held an unscheduled conference call on Tuesday to discuss the rout, though a closing statement signaled they didn't settle on any new policy measures.
The alliance agreed to slash production by about 10 million barrels a day earlier this month, but the cuts won't kick in until May. Even then, they won't be enough to balance out the demand destruction from the virus in the short term, which could be as high as 30 million barrels a day.
There are signs that the stunningly low prices are here to stay as supply dwarfs consumption. Royal Vopak NV, the world's biggest independent storage company, said almost all of its space is sold, while Clarksons Platou said floating storage is filling at an "unprecedented pace." Traditional oil bull Pierre Andurand warned crude could tumble below zero again and described the market as dangerous to trade in.
The rout is leaving the United States Oil Fund, the world's biggest crude-tracking vehicle, at risk of becoming another casualty of the crisis. The fund has scrambled to move its holdings into longer-dated contracts among measures forced on it in the last few days. The value of its assets fell by more than $1 billion on Tuesday.
Meanwhile, Interactive Brokers LLC announced an $88 million provisional loss after customers holding long positions in May WTI at expiration triggered losses in excess of the equity in their accounts. In South Korea, the meltdown froze the trading system of brokerage Kiwoom Securities Co. as it failed to recognize negative prices.
Prices:
– Brent for June settlement fell as low as $15.98 a barrel, the lowest since June 1999, and was down 1.6% at $19.02 as of 10:45 a.m. in London
– WTI for June lost 2.9% to $11.23 a barrel
– The Dated Brent benchmark, a global reference for almost two-thirds of the world's physical flows, plunged to $13.24 a barrel on Tuesday, the lowest since 1999, according to price reporting service S&P Global Platts. That means key European and African crude streams including Urals and Bonny Light will now sell under $10, as they trade at a discount to the Dated Brent benchmark.
Inventories at the biggest U.S. storage hub in Cushing, Oklahoma, are at the highest since 2017 and are expected to rise further. The industry-funded American Petroleum Institute reported that nationwide crude stockpiles rose 13.2 million barrels last week and supplies at Cushing added almost 5 million barrels, according to people familiar with the data. Meanwhile, Indian fuel tanks are now 95% full, according to officials at three state-owned refiners.
"The dive below zero was more than just a technical quirk and could repeat itself if storage constraints intensify," said Stephen Brennock, an analyst at broker PVM Oil Associates in London.
*Sharon Cho & Alex Longley – Bloomberg