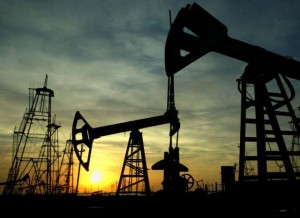 07 August 2013, News Wires – Brent crude futures slipped on Wednesday towards $108, dropping for a fourth straight day, as supply worries eased and on caution ahead of data from China and the US, the world's two top oil consumers.
Numbers due later this week may show China's exports, factory output and retail sales all edged up in July, in initial signs of the economy stabilising. US government data later today on crude stockpiles will give investors an indication of the country's demand outlook.
Brent crude slipped 13 cents to $108.05 a barrel early on Wednesday, in its longest losing streak since mid-April. US oil gained 9 cents to $105.39, after an industry report showed a fall in US crude stocks.
"There is upcoming data from the United States and China that will give the market a sense of the demand outlook for oil," said Ric Spooner, chief market analyst at CMC Markets. "But the short-term outlook on oil prices looks to be on the downside."
Aside from data, any announcement from the US Federal Reserve on withdrawing its monetary stimulus would also impact oil, Spooner said. A pullback may boost the dollar, weighing on commodities such as oil that are priced in the US currency.
Given the mixed influences affecting oil markets, Spooner expects $102.50 to be a key support for the US benchmark and around $109 a major resistance. For the European marker, the range is narrower, between $105.50 and around $109, he said.
Brent is poised to break a support at $107.40 and head towards $106.76, while US oil is expected to drop to $104.12, as indicated by its wave pattern and a Fibonacci ratio analysis, according to Reuters technical analyst Wang Tao.
Brent is also being pressured as risk premiums come off after Iran's incoming President Hassan Rouhani offered an olive branch to the US in talks on Tehran's disputed nuclear programme, raising hopes of progress after years of stalemate.
Even though there is a long way to go, the comments are providing comfort to investors who have been on edge over worsening relations between the two. Geo-political worries have kept Brent above $100 a barrel for most of 2012 and this year.
"Such statements are usually for posturing and do not have any real impact at the end of the day," said Spooner. "But we have had a change of guard, and people are in a wait-and-see mode to see what comes out of it."
US crude stocks fell more than expected last week as refinery output inched up, by 3.66 million barrels in the week to 366.3 million, compared with analysts' expectations for a draw of 1.2 million barrels, data from industry group the American Petroleum Institute showed.
Crude stocks at the Cushing, Oklahoma, delivery hub fell by 2.2 million barrels, API said. Refinery crude runs rose by 17,000 barrels per day, the data showed. Investors are now awaiting data from the Energy Information Administration (EIA) due later in the day to gauge the country's demand outlook.