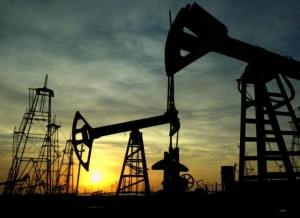 26 August 2013, News Wires – Brent crude extended gains above $111 a barrel on Monday to a near five-month high as rising tensions over a suspected chemical weapons attack in Syria added to concerns of increased unrest in the Middle East that could disrupt supply.
Oil prices also gained alongside equities after a steep drop in US new home sales on Friday tempered expectations the Federal Reserve will soon reduce stimulus.
"The oil market is heading to an upside due to geopolitical risks in the Middle East and positive equity markets," said Tetsu Emori, a commodities fund manager at Astmax Investment in Tokyo.
Brent crude for October touched $111.68, the highest since 2 April and was at $111.20 a barrel, up 16 cents, by 0141 GMT.
US crude for October delivery rose 46 cents to $106.88 after a 0.6% gain last week as refinery outages pushed up gasoline prices on Friday.
Brent has risen in the past two weeks on tighter supply due to disrupted output from the North Sea to Libya while positive economic data from the euro zone and China last week improved the outlook for fuel demand.
"Europe is recovering and China has probably hit bottom already. That should support prices," Emori said.
In the Middle East, Egypt has seen its bloodiest civil unrest in 60 years while the government of President Bashar Assad in Syria is suspected of having launched a chemical weapons attack on its own people. Libya is grappling with regional unrest that has blocked its ports, the worst disruption to its oil sector since the 2011 civil war.
Syria agreed on Sunday to let the United Nations inspect the site of a suspected chemical weapons attack, but a US official said such an offer was "too late to be credible".
"With the Syrian government allowing the UN to inspect the chemical weapons site to show the attack was in fact terrorist driven and not government related, the likelihood of a US led military conflict remains unlikely, until at least more information is shed on the matter," Timothy Radford, a global analyst at investment firm Rivkin in Sydney wrote in a note.
In the United States, hedge funds and other money managers continued to unwind a record net long position they had built in July, regulatory data showed. Bullish US oil bets were trimmed for the fourth week in a row in the seven days to 20 August.
– Upstream