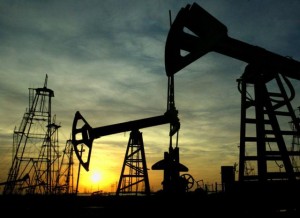 06 August 2013, News Wires – Brent futures slipped towards $108 a barrel on Tuesday as supply fears from key exporters such as Libya eased, but losses were stemmed with a forecast fall in crude inventories in the world's largest oil consumer the US.
Libya's Oil Minister Abdelbari Arusi said output had improved and the government was working to end protests at oil facilities.
His comments followed Iranian President Hassan Rouhani signalling a willingness to improve relations with the West and end a dispute over Tehran's nuclear programme, assuring investors that supply fears from key exporters were abating.
Brent crude slipped 26 cents to $108.46 early on Tuesday, sliding for a third day in its longest losing streak since end-May. US oil fell 21 cents to $106.35, after ending 38 cents down. It is also down for a third straight day.
"Oil prices are pretty expensive at these levels and I doubt we will see them going much higher from here. They are more likely to trade sideways," said Tony Nunan, a risk manager at Mitsubishi Corporation.
"Some economic numbers out of the United States seem to suggest the US is slowing growing. That, and recent supply fears, have helped support prices."
Nunan expects $109 to be the next key resistance level for the US benchmark and $110 for Brent.
Brent rose nearly 10% in about six weeks, touching $110.09 on 2 August, the highest since early April, in part due to worries over supply from major exporters such as Libya and Iraq. Prices have begun coming off after Rouhani's comments and as supply worries abate.
"Those outages and supply worries from the Middle East and Africa have provided support to oil," Nunan said.
Brent is expected retest a support at $107.40, with a good chance of breaking below this level and falling further, while US oil is expected to retest a support at $105.75, according to Reuters technical analyst Wang Tao.
Yet, further losses were checked on expectations US commercial crude and gasoline stockpiles fell last week, a preliminary Reuters poll showed.
The survey, ahead of weekly inventory reports from the American Petroleum Institute (API) and the US Energy Information Administration (EIA), forecast an average crude stocks fall of 700,000 barrels in the week ended 2 August.
In the previous week, US crude inventories rose 431,000 barrels to about 365 million barrels.
Even though risk premiums have come off, concerns over the crisis in Syria engulfing the region also continue to support prices. President Bashar Assad said crushing "terrorists" must come before any political solution to end the crisis in his country, dimming hopes of an international peace conference any time soon.