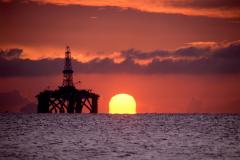 16 May 2013, News Wires – Brent futures slipped towards $103 a barrel on Thursday as a sharper-than-expected drop in US factory output muddied the outlook for demand, but a surprise drawdown in crude stockpiles in the world's top consumer helped stem the slide.
US factory output dropped in April and manufacturing activity in New York state contracted this month as a recession in the euro zone and slower growth in China undercut demand for exports from the world's biggest economy.
The uncertain global outlook at a time when supplies are rising weighed on oil, making it difficult for prices to move much higher from current levels.
Brent slipped 44 cents to $103.24 a barrel early on Thursday, after settling up $1.08 — the biggest change in dollar terms since 6 May. U.S. oil fell 36 cents to $93.94, after ending 9 cents higher.
"The economy doesn't support prices at these levels so why should they be there?" said Jonathan Barratt, chief executive of BarrattBulletin, a Sydney-based commodity research firm.
"The rise in oil we saw yesterday was because of the surprise draw in US crude stockpiles. It caught some people short."
US crude stockpiles declined by 624,000 barrels during the week to 10 May, according to data from the Energy Information Administration (EIA). Analysts had forecast on average a 300,000-barrel crude build.
Commercial crude stockpiles hit 395.5 million barrels in the week to 3 May, the highest since records began in 1982.
Yet, investors are not taking the drawdown as an indicator of a change in trend because gasoline and distillate inventories jumped well above expectations.
Gasoline stockpiles on the East Coast rose by 1.8 million barrels as the nation heads into the summer gasoline season, up nearly 10 million barrels from the same time last year.
Oil prices also drew support from news that the United Nations' nuclear agency failed to persuade Iran to let it resume an investigation into suspected atomic bomb research, reviving worries about supply disruption.
Fears of geopolitical tensions worsening in the Middle East have kept Brent above $100 a barrel for most of 2012 and this year despite a gloomy demand outlook. But without a further escalation in the crisis, oil is unlikely to get a boost as the risk factor has been priced in.
"The rhetoric comes and goes," said Barratt. "The stance everyone makes is soft as nobody wants to rattle the cage."
Brent faces resistance at $103.77 and is expected to retrace to $102.50, while US oil is expected to end its current rebound around a resistance at $94.65, according to Reuters technical analyst Wang Tao.