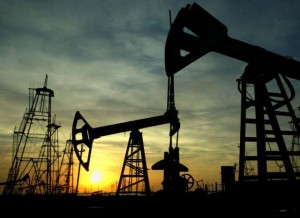 16 August 2013, News Wires – Brent crude oil steadied above $109 per barrel on Friday, consolidating after a week of strong gains as turmoil in Egypt and Libya stoked worries over the security of oil supplies from the Middle East and North Africa.
Concerns that violence in Egypt could affect the Suez Canal, conduit for up to 3 million barrels per day of oil and a vital seaway for bulk carriers, helped drive Brent to a four-month high on Thursday.
The deeply polarised country braced for more confrontation on Friday after the Muslim Brotherhood called for a nationwide march of millions in protest against a security crackdown on Islamists that killed hundreds.
Next door in Libya, oil production has been crippled by the collapse of civil society, violence and strikes, pushing exports, the lifeblood of the economy, to their lowest since the civil war that ousted Muammar Gaddafi in 2011.
Brent crude futures for October were up 17 cents at $109.77 a barrel by 1050 GMT, positioned for a weekly rise of about 1.3%. US crude oil futures for September rose 8 cents to $107.33, also up around 1.3% this week.
"The risk premium is high and is rising," said Carsten Fritsch, senior oil analyst at Commerzbank in Frankfurt.
"Given the worsening geopolitical situation, with rising tension across North Africa and the Middle East, another run-up above $110 for Brent could be on the cards," Fritsch added.
Ben Le Brun, analyst at OptionsXpress, agreed: "Unrest in Egypt is definitely … putting a floor (under) prices."
The Suez Canal and Egyptian ports were operating normally, shipping sources told Reuters on Thursday.
Although Egypt is not a major oil producer, investors were wary that unrest could spread around the region.
Libyan Prime Minister Ali Zeidan said on Thursday his government would use all means, including military force if necessary, to prevent striking security guards at the country's main ports from selling its oil independently.
Strikes by security guards have hit major oil export sites in Libya, including Es Sider and Ras Lanuf, choking off one of the country's few sources of foreign currency.
"The Libyan government's warning that it will use military force to prevent striking security guards from selling oil independently, suggests the situation could easily escalate further," ANZ analysts wrote in a note on Friday.
Libya has restarted refined-product exports from its largest refinery, Ras Lanuf, but most crude oil terminals including Es Sider, the biggest, remain blocked by protests, with exports still running at less than half normal levels.
Iraq is still undecided whether to carry out full maintenance on its Basra oil export terminals in September, four oil officials said.