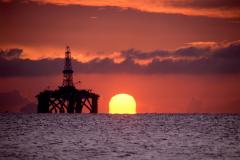 13 April 2013, News Wires – Brent crude oil prices pared losses in afternoon trading Friday after earlier touching a nine-month low near $101 a barrel, as concerns about the strength of the world economy triggered heavy selling in commodities.
Gold, silver and other metals such as copper also fell, Reuters reported.
"There's an underlying anxiety in the crude market about demand growth going forward into the second half of the year," Andy Lebow, vice president at Jefferies Bache in New York, told the news wire.
"Gold came off and industrials are really getting hit today. That's part and parcel of the anxiety over global demand growth."
Stephen Schork, the editor of The Schork Report of energy and shipping market analysis, said losses in one commodity could prompt selling to cover losses in another.
"Oil is in a continued a bear run, but there's still a considerable amount of length from a Wall Street standpoint, so it smells like more of a liquidation selloff," he said.
World equities prices retreated on weak data on US retail sales and consumer sentiment, as well as news that Cyprus would ask for billions more in bailout money.
It "caps a week of news pointing to weaker economic growth and less demand for oil" said John Kilduff, partner at Again Capital in New York.
Friday's weak data from the United States followed forecasts for lower global oil demand growth for 2013 released this week by the International Energy Agency, the US Energy Information Administration and Opec.
Brent May crude pared losses, trading at $102.97 a barrel at 2:23 pm EDT (18:23 GMT), after a drop of more than $3 from Thursday's close to $101.09, the lowest price since July.
The Brent May contract expires Monday.
US May crude fell more than $2, reaching $91.48 a barrel, having pushed below the 100- and 200-day moving averages on an earlier low of $90.27.
Both crude contracts were on track to post week-on-week losses of more than 2%.
The spread between Brent crude and West Texas Intermediate widened Friday afternoon as WTI prices were pressured by increased flow into the US oil contract delivery hub at Cushing, Oklahoma.
Traders said that flows may have increased as ExxonMobil's Pegasus pipeline, which runs from Patoka, Illinois to Texas, has been shut for two weeks after spilling around 5,000 barrels of oil in an Arkansas town on 29 March.
Genscape, an independent company that monitors pipeline flows, said it detected a near-doubling of flows into Cushing on the Keystone-Steele City line.
US May RBOB gasoline and heating oil futures bounced off of their lows, after falling sharply in morning trading.
Oil's price slide was hastened by reports that showed US retail sales contracted in March for the second time in three months and consumer confidence weakened in April, pointing to slowing economic growth in the world's biggest oil consuming nation.
Cyprus said on Friday that an increase in the cost of its total bailout package from the European Union and the International Monetary Fund to 23 billion euros, 5.5 billion more than it had initially projected in November, would not lead to additional demands on bank depositors.
The problems in Cyprus have added to concerns about the euro zone economy.
Geopolitical tensions in the Middle East, with Syria's civil war continuing and no resolution in sight of Iran's dispute over its controversial nuclear program, remain a focus for oil investors.
In Seoul on Friday, US Secretary of State John Kerry warned North Korea it would be a "huge mistake" to test launch a medium-range missile and said the United States would never accept the reclusive country as a nuclear power.
Also demanding investors' attention was a US government agency saying North Korea has a nuclear weapon it can mount on a missile, adding an ominous dimension to threats of war by Pyongyang, but the assessment was swiftly dismissed by several US officials and South Korea.