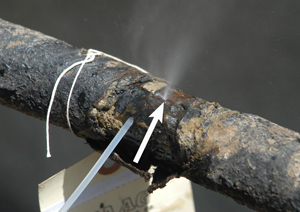 04 August 2014, Ughelli — A fire outbreak is imminent in Otu-Jeremi Community, Ughelli South Local Government Area, Delta State, following the rupture of a gas pipeline belonging to the Nigeria Petroleum Development Company (NPDC).
The ruptured pipeline, located close to the Utorogu gas plant, was discovered by some members of the community who went fishing, and quickly reported to the community's President-General, Chief Eric Sagini.
The President General told Sunday Independent that the rupture was as a result of NPDC's equipment failure. "We have on several occasions asked them to change the pipes but it all fell on deaf ears," he said.
He explained that: "The ruptured pipe is among the pipes transporting gas substances from OML 26 to Utorogu gas plant in OML 34 and they are already bad, hence the rupture. When I got the information at about 3pm, I put a call to the asset manager, Mr. Monday Barry, he promised to call me back but up till now I have not heard from him.
"This was why we have been clamouring for the NPDC asset manager to be resident in Delta State because at present we don't know what to do, even a fire fighter station is not here in case of any fire outbreak and we are ignorant of any imminent danger.
"At present, those who live around the area have all been evacuated for fear of possible fire outbreak."
Efforts made to reach Mr. Barry on his mobile phone proved abortive as at press time.
*Sunday Apah – Daily Independent