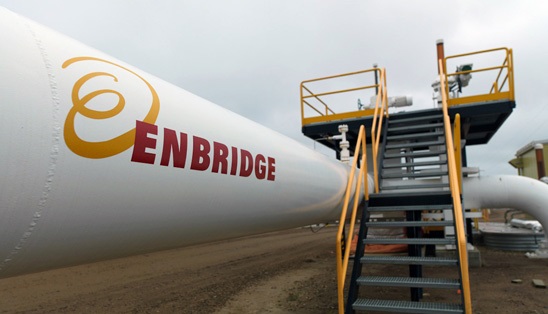 News wire — Canadian pipeline operator Enbridge Inc reported higher second-quarter profit on Friday due to increased oil volumes, and said it was not considering splitting its business.
Rival TC Energy said last week it would spin off its oil pipeline operations and focus on transporting natural gas, saying the businesses would be more valuable apart.
"Increasingly you're seeing that premier valuations should go to companies that can play all parts of the energy evolution," Enbridge CEO Greg Ebel said on a call with analysts.
"I just don't see (a split) today for a company of our breadth, size and diversity, and frankly low risk diversification."
Shares of the Calgary, Alberta-based company rose 0.6% to C$48.36 in Toronto.
Enbridge officials said they had no late-stage renewable power projects affected by a delay in approvals by Alberta over the government's concerns about land use and reliability.
"This balanced approach of governments starting to focus on affordability, security and reliability makes sense," Ebel said.
Enbridge's Mainline system, which ships the bulk of Canadian crude to the U.S., transported 3 million barrels per day (bpd) in the second quarter, compared with 2.8 million bpd a year earlier.
The Mainline earned C$1.45 billion ($1.09 billion) in the quarter, up 19% from last year.
The company reaffirmed its 2023 core earnings guidance and posted adjusted earnings of 68 Canadian cents, in line with analysts' average expectations, according to Refinitiv data.
Enbridge reported net income of C$1.8 billion, or 91 Canadian cents per share, for the quarter, compared with C$450 million or 22 Canadian cents per share in the same period of last year.
Reporting by Arshreet Singh in Bengaluru and Rod Nickel in Winnipeg; Editing by Sriraj Kalluvila and Jan Harvey – Reuters