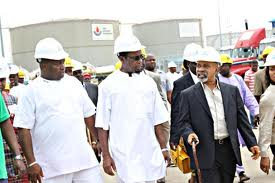 18 November 2012, Sweetcrude, LAGOS – THE embattled Capital Oil and Gas Limited says it has shutdown operations in compliance with a court order to that effect.
But, it warned that shutting down its operations could exacerbate the scarcity of fuel in the country.
In a statement in Lagos, the managing director of the company, Mr. Ifeanyi Patrick Ubah, spoke of a plot to take over the company, maintaining that those who are working to take over the company were being helped by their friends in government.
Ubah's Capital Oil is reported to be responsible for about 35% of Nigeria's daily petroleum products distribution.
Besides the plot to take over the company, some observers claim recent actions against it were aimed at scuttling Ubah's plan to contest the governorship election in Anambra State in 2014.
Ubah and Capital Oil Company are currently engaged in battle over alleged indebtedness of the company to Uju Ifejika, the Managing Director of BrittaniaU, Cosmas Maduka, Managing Director of Coscharis Group, and Access Bank Plc.
The company is also allegedly exposed to some Nigerian banks, a development that led to a recent court order obtained by the Assets Management Company of Nigeria , AMCON, freezing the company's operations.
Besides, Access Bank, a local Nigerian bank has also obtained an injunction from a London court, freezing the company's assets worldwide.