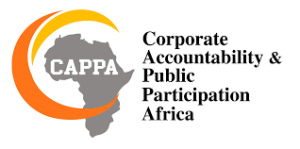 – Urges Tinubu to prioritize green energy policies
– Decentralize reliance on fossil fuels
Mkpoikana Udoma
Port Harcourt — President Bola Ahmed Tinubu has been charged to adopt an economic framework that will wean the country off its over-reliance on fossil fuel, promote sustainable energy sources, safeguard human rights and improve public services, along with a total overhaul of the country's security architecture, in order to set the nation on the path of peace and sustainable growth.
The Corporate Accountability and Public Participation Africa, CAPPA, who gave the charge, said the emergence of a new administration was a call to action for the Tinubu-led government to not only rebuild the crumbling walls of national unity, but also commit to tackling and prioritizing urgent national issues such as security, education, and public health.
Executive Director of CAPPA, Akinbode Oluwafemi, drew attention to Tinubu's campaign manifesto, which promised to work to revive the country's ailing economy through job creation, initiatives promoting food security, and a holistic sector rejuvenation.
Oluwafemi in a statement particularly recalled that President Tinubu during his campaigns pledged to work in concert with global green energy trends and promote environmental justice by diversifying Nigeria beyond oil and moving the country out of the uninspiring ranking among the world's top ten flaring nations.
Noting that Nigeria's economy was currently grappling with formidable challenges, as the nation stood at critical crossroads, CAPPA said the country at the moment needs a bold and visionary leadership to inject new vitality into the economy and nationhood.
"Indeed, we agree with this vision and believe that our natural resource-wealth, and strategic position on the global stage grants us ample leverage to spearhead global discourse on green energy, climate change and environmental sustainability.
"We thus urge President Tinubu to prioritize green energy policies that will decentralize Nigeria's reliance on fossil fuels and demonstrate to the world at large that economic prosperity and environmental stewardship can coexist".
CAPPA said it will hold Tinubu to his manifesto to implement an effective pro-health consumption tax that will be dedicated to funding public health and reducing consumption of products like sugar, alcohol and tobacco which are linked to rising cases of non-communicable diseases.
"Education is another paramount area demanding immediate attention. A country is only as good as the quality of education bequeathed to its citizens. Yet, Nigeria has consistently struggled to prioritize education in its budgetary allocation, falling short of the recommended global benchmark of a 15-20% allocation of national budgets to education.
"We therefore call on the Tinubu administration to step up to upgrading national education quality and standards by allocating more funds to education and implementing across all levels of the system, advanced pedagogical infrastructures that foster critical thinking, creativity, digital literacy and the acquisition of practical skills vital to improving national development and securing our spot in the global economy.
"As the President commences his tenure, we further appeal to him to fortify Nigeria's democracy by safeguarding human rights, upholding the rule of law as promised during his campaign, and nurturing a government that is transparent, accountable, and immune to corruption and nepotism which have become the bane of our national progress.
"This is particularly important in the wake of the President's bold move to eliminate fuel subsidies and re-channel funds towards the improvement of public infrastructure such as education, healthcare and jobs that will materially improve the lives of millions. We strongly advise President Tinubu to work to cushion the impact of subsidy removal on Nigerians and righteously manage the nation's commonwealth to inspire a prosperous, sustainable, and inclusive future for all.
"Ultimately, the hope of Nigerians lies in President Tinubu's capacity to restore the country's lost glory. CAPPA, alongside the Nigerian populace, will extend unwavering support to this mission. We remain hopeful about the future and stand ready to support the new administration in nurturing a culture of transparency, accountability, and public participation."
Follow us on twitter