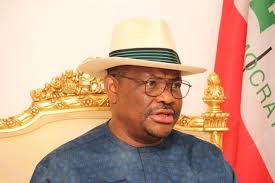 Mkpoikana Udoma
Port Harcourt — Rivers State governor, Nyesom Ezenwo Wike has advised President Muhammadu Buhari to reconsider the manner with which the Central Bank of Nigeria's currency redesign policy has been implemented so far, describing it as anti-people.
Governor Wike maintained that those who recommended what he described as "apparently anti-people monetary policy" do not love the President and are bent on tarnishing his legacy.
The governor speaking at a campaign in Ibaka, Okrika Local Government Area of the state, urged President Muhammadu Buhari to take a critical look at the socioeconomic chaos, and hardship that the exercise has caused, and revisit the policy in order to curb the pains of Nigerians.
"This policy is anti-people. The new Naira note is not there. Even though I have money in my account, I cannot get N10,000. I cannot go and buy fuel. Who is losing? Is it not the masses? Is it not the people?"
He suggested that the President should stop listening to those who advise him on this monetary policy under the guise that it will curb vote buying. He said those advisors do not mean well for Nigerians and cannot feel their sufferings.
Governor Wike also dismissed the claim that the policy is being implemented to fight politicians and corruption, and wondered if such goals can be achieved within, barely, the three months left within the lifespan of the President Buhari's administration.
"You're merely fighting against the poor people. Mr President, I know the pressure, but please since two of us are going the same time, this policy, it has nothing to fight corruption at all. It has nothing to fight politicians."
"This policy is aimed to suffer the people who elected us to govern over them. Our business is not to make the people to suffer. We all know how to fight corruption. We all know how to fight politicians. This particular one, it does not come in at all."
Governor Wike expressed dismay that people are now prevented from accessing money lodged in their bank accounts and small-scale commercial activities grounded for lack of cash. According to him, there is reduced cash flow in circulation and even the redesigned Naira notes are hardly available to the citizenry.
"I know Mr President has good intention, but there are these people who believe they know more than everybody, they go and put the country in total chaos and that is what we are suffering now."
He stressed the futility of presenting credit cards to pay for food items bought from elderly traders who depend on daily sales to raise money in the rural areas with prevailing illiteracy, maintaining that there was nowhere in the world where such currency change has been done conclusively within six months.
"I have never seen anywhere in this world where you change money within six months and say no more use of old money. It doesn't work. It takes time and you have to prepare. Look at our economy, look at the rural areas, the level of illiteracy in the country."
Governor Wike, therefore, urged the president to endeavour to avert aggravating the security challenge across the country and pushing Nigerians deeper into economic hardship.
"Can you imagine the problem you're causing for us. As we are here, the level of insecurity will increase. We can't get security agencies money any longer for them to use and pay those who are in the field. Even the CIA they carry cash for operation. Even NIA, they carry cash for operation. But here, we can't even give our security N1million."
Follow us on twitter