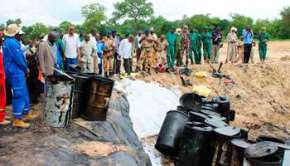 11 August 2014 – Chad plans to take China National Petroleum Corporation (CNPC) to an arbitration court in Paris after talks stalled over its claim for $1.2 billion from the state-owned company in compensation for breaking environmental rules, according to reports.
The dispute erupted in July last year after Chad said it discovered large quantities of crude had been dumped into pits dug in the Koudalwa region, where CNPC has held licenses to several oil blocks since 2009.
Reuters quoted secretary-general of the Chadian government, Abdoulaye Sabre Fadoul, as saying that weeks of negotiations to reach an amicable solution to the dispute had failed.
"That is why we have decided to take a complaint to the arbitration tribunal in Paris, as agreed under the terms of our contract with CNPC," he was quoted as saying.
Last week in an escalation of the dispute, Chad cancelled five exploration licenses held by CNPC.
As well as taking the case to the International Arbitration Chamber of Paris, the minister said the government had lodged a complaint against CNPC at a court in N'Djamena for environmental destruction and endangering lives.
A spokesman for the Chinese oil company could not immediately be reached for comment.
The government said in May that it was suspending all exploration and drilling activities of CNPC for failure to meet environmental standards.
Chad became a crude producer in 2003, and production peaked at about 176,000 barrels per day in 2005 before declining primarily due to ageing wells in its Doba oilfield.
*Reuters