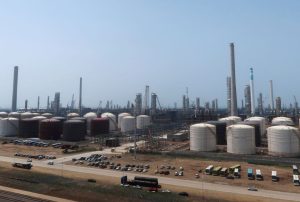 – Ethylene, propylene capacity growth outpaces demand
– Glut threatens Asian, European rivals
– China's producers suffer losses in market share battle
New Delhi/Beijing – China is relentlessly adding new petrochemical capacity despite a global glut as the country's refiners diversify from transport fuels, threatening to depress margins worldwide through 2024 as weak economic growth saps demand.
In an ominous sign for producers of the chemicals used in plastic packaging, polyester clothing and auto parts, refiners' profit margins on processing naphtha to make ethylene turned negative last week for the first time since October.
The profit crunch is being driven by China's refiners boosting output of olefins such as ethylene to offset an expected decline in sales of petrol and diesel as electric vehicle take-up accelerates. Their capacity expansion is outpacing growth in demand for the chemicals.
Global demand for ethylene and propylene is forecast to surge 29% from 2023 to 426.8 million metric tons by 2030, while capacity is expected to jump 25% from 2023 to 485.9 million metric tons by 2030, research firm Wood Mackenzie (WoodMac) estimates.
New capacity in China is expected to make up more than half of that growth, according to the International Energy Agency.
In 2023, WoodMac sees China's output growth creating a local surplus of 4.24 million metric tons of ethylene and an even bigger oversupply of propylene at 8.69 million metric tons.
"The surplus of olefins will be pushed onto the water to clear elsewhere in Asia or further afield in Europe and the U.S. at steep discounts," Energy Aspects analysts said in a note.
"This poses more risk to utilisation rates in the rest of Asia and Europe, which are more sensitive to margin compression."
MARKET SHARE BATTLE
Newly launched refinery complexes by state giant PetroChina's (601857.SS) Guangdong Petrochemical and privately-run Jiangsu Shenghong Petrochemical have added to surging petrochemical supply from mega refiners Zhejiang Petrochemical Corp and Hengli Petrochemical (600346.SS) that has come online in recent years.
Despite margin pressure, Chinese producers are likely to keep plants operating to protect market share and prevent deeper losses that would result from shutting units, a Chinese refining source said, declining to be named.
Producers are already feeling the pain in their battle against each other for market share.
Asia's largest refiner, China's state-run Sinopec Corp (600028.SS), warned in its first-quarter report that its chemicals business faced pressure from competing new supply and a tepid recovery in demand.
Independent refiner Hengli Petrochemical's net profit slid nearly 76% in the first quarter due to "high operating costs and low industry demand," the company said in April.
Rongsheng Petrochemical (002493.SZ) and Hengyi Petrochemical (000703.SZ) swung to net losses in the first quarter.
The world's largest producer and consumer of petrochemicals, China has been unable to absorb the extra output as its domestic market has struggled to recover from three years of strict COVID-19 curbs and weaker global demand for its exports.
Since the pandemic, Chinese consumption patterns have prioritised socialising over spending on goods, Ganesh Gopalakrishnan, TotalEnergies's global head of petrochemical trading, told Reuters last month.
While Chinese demand from some sectors such as inexpensive clothing and daily essentials is robust, other sectors such as automative have yet to recover in line with expectations, said Salmon Lee, global head of polyesters at consultancy WoodMac.
Pointing to high petrochemical stockpiles, Lee said: "The destocking process could take time."
($1 = 7.1779 Chinese yuan renminbi)
*Mohi Narayan & Andrew Hayley; Matthew Chye; Editing: Florence Tan & Sonali Paul – Reuters
Follow us on twitter