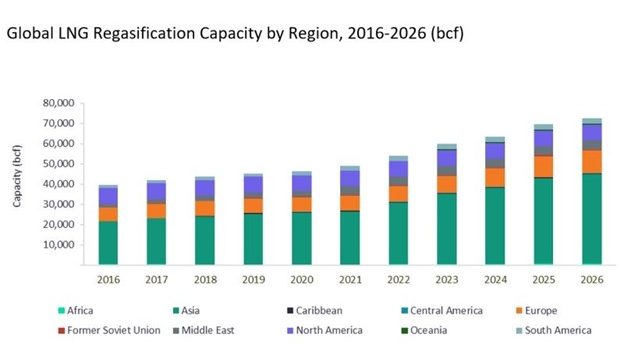 Lagos — China is set to dominate the liquefied natural gas (LNG) regasification capacity additions in Asia, contributing around 34% of the region's capacity additions by 2027, according to GlobalData, a leading data and analytics company.
GlobalData's latest report, 'LNG Regasification Terminals Capacity and Capital Expenditure (CapEx) Forecast by Region, Key Countries, Companies and Projects (New Build, Expansion, Planned and Announced), 2023-2027', reveals that China is set to add a capacity of 5.7 trillion cubic feet (tcf) from projects that have already received necessary approvals and 2.1 tcf from projects that are in the conceptual study stage and are yet to be approved.
Bhargavi Gandham, Oil & Gas Analyst at GlobalData, comments: "China is rapidly expanding its LNG regasification capacity due to several factors, such as to meet ever-growing natural gas demand, mitigate environmental pollution, diversify its energy resources, and meet its carbon neutral objectives."
Tangshan II and Zhoushan II projects lead in terms of the LNG regasification capacity additions in China, with a capacity of 584.4 billion cubic feet (bcf) by 2027 each. Tangshan II is an onshore regasification terminal planned in Hebei province, China. Caofeidian Xintian LNG Co Ltd is the proposed operator as well as the majority stakeholder (51%) in the terminal, which is set to begin operations in 2025. China Suntien Green Energy Co Ltd holds the remaining stake in the terminal. The terminal will help meet peak winter demand in Hebei and North China.
Zhoushan II is an announced LNG regasification terminal in Zhejiang province. ENN Energy Holding is the operator of the terminal. It is expected to commence operations in 2025.
Bhargavi concludes: "With an expected capacity of 487 bcf by 2027, Yantai I rank second in terms of LNG regasification capacity among the upcoming terminals in China. Yantai LNG Group is the proposed operator of the terminal, which is scheduled to begin operations in 2023. POLY GCL Petroleum Investment Ltd holds a 100% stake in the project. Gas from the terminal will help to meet the growing demand for natural gas in the Shandong province, which is primarily known for consumption of coal."
Follow us on twitter