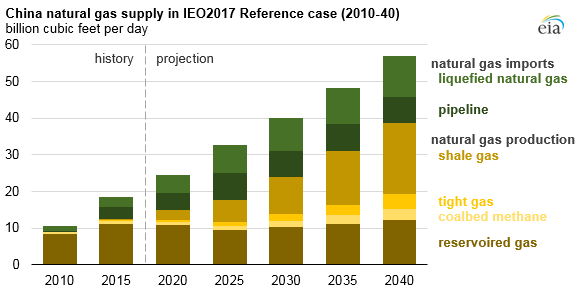 26 June 2018, Sweetcrude, Houston, Texas — "When China awakes, she'll shake the world." Those words have been attributed to Napoleon Bonaparte, although some historians are sceptical. Whoever said them first, the words have proved prophetic in describing much of the global energy sector in recent years, from coal (China leads the world in production and consumption) to solar panels (China leads the world in manufacturing and deployment) to oil (China leads the world in imports). Yet in natural gas China remained almost a bit player, with a far more modest role in global markets.
No more. In 2017, China was the world's fastest-growing natural gas market. Consumption grew by 15%, more than twice the rate of economic growth. LNG imports grew by a staggering 46%. Government targets imply strong natural gas demand growth for at least the next decade—although infrastructure constraints could limit consumption in the short and medium terms.
In a new commentary, CGEP Scholars David Sandalow, Akos Losz and Sheng Yan look at the factors behind China's thirst for natural gas and recent natural gas shortages. They also examine four factors that will play a central role in determining China's LNG requirements in the years ahead: domestic natural gas production, pipeline gas imports, natural gas storage capacity and LNG infrastructure constraints. Finally, they explore implications for US-China trade and global climate goals.
Key conclusions from the authors include the following:
Natural gas will play a growing role in China's energy mix in the years ahead, as a core part of the Chinese leadership's strategy for responding to serious environmental challenges, including urban air pollution and climate change.
China's domestic production and pipeline imports will be unable to keep up with rapidly growing demand, leaving LNG imports to fill the gap.
Infrastructure constraints may limit LNG imports in the short term but will likely be resolved within several years.
The impact of LNG trade on the US-China bilateral trade deficit will be modest at most. Nevertheless, that trade could offer benefits to companies in both countries if trade tensions do not interfere.
Chinese LNG demand will be instrumental in the next investment wave in LNG supply around the world, including—potentially—in the United States.
Chinese natural gas could also deliver significant environmental benefits both in China and globally, although there are risks with respect to methane leakage that must be addressed.