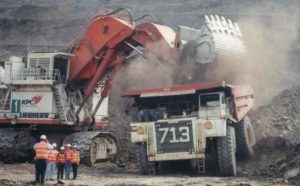 10 December 2018, News Wires — Democratic Republic of Congo's state mining company Gecamines said on Monday it would increase its stake in its Boss Mining joint venture with ENRC Africa Holdings to 49 percent after the two companies renegotiated terms.
The state miner is moving to increase its take from joint ventures with international miners such as Glencore and China Molybdenum, which it accuses of not bringing enough money to the country.
Congo is Africa's biggest copper and cobalt producer and also mines gold and diamonds, but it is one of the world's least developed countries with an annual budget of roughly $5 billion.
In a statement on Monday, Gecamines said its share in Boss Mining would rise to 49 percent from 30 percent, while ENRC's stake would fall to 51 percent from 70 percent.
A Boss Mining debt of $1.5 billion towards ENRC – a subsidiary of Kazakhstan's Eurasian Resources Group – has been canceled, and the signing bonus payable by ENRC to Gecamines was raised to $165 from $35 per tonne of copper and copper equivalent, the statement said.
ENRC will also pay Gecamines $30 million to settle an arbitration case pending before the International Chamber of Commerce, Gecamines said.
The payment is one of a series the heavily-indebted state company has received in the past two years, including a $150 million payment in June by a Glencore subsidiary to settle a dispute over another copper mine's debts.
International activist groups, including the Carter Center and Global Witness, say hundreds of millions of dollars of Gecamines' revenues in recent years have gone missing. Gecamines denies those allegations.
Boss Mining exported over 17,000 tonnes of copper over the first six months of 2018.
Gecamines signed its first production-sharing deal for copper and cobalt deposits with China's Hongkong Excellen Mining Investment last week, a model it says will earn it a more equitable share of revenues from its joint ventures.