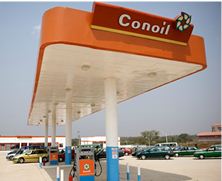 01 September 2013, Lagos – By declaring a 255 per cent increase in profits in the first half of the year, Conoil Plc has further raised investors' appetite in its stocks, reports Festus Akanbi.
That the times are indeed bad, in the economic scene is a fact acknowledged world-wide. The story is not in any way different in Nigeria. For operators in the downstream petroleum sector of the economy, these are not the best of times. Little wonder that when Conoil Plc submitted its unaudited 2013 half year result on the floor of the Nigerian Stock Exchange (NSE) recently, the investing public heaved a sigh of relief.
The oil marketing giant recorded 255 per cent increase in profit after tax from N450.9 million in 2012 to N1.6 billion in 2013, while profit before tax rose by 199 per cent from N663.1 million to N1.98 billion, with a promise to sustain and improve on this performance at year end.
Its Earnings per Share (EPS), which measures the net income for every shareholder, increased from 65kobo to 230 kobo.
The result clearly demonstrated Conoil's resilience to respond to the volatility in the downstream sector.
In a statement released by the company to buttress its determination to remain investors' delight, the company said: "Our half year strong performance prepares us well for the increasingly fierce competition in the industry. We will continue to transform our business and the way we interact with our dynamic marketplace."
Conoil added that the downstream remains fundamentally attractive now and for the medium and long term. "With our clarity of direction and focus, our company's long-term success is assured. We will sust