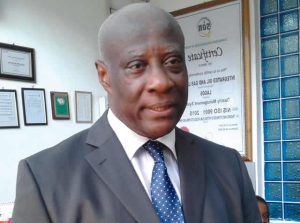 Vincent Toritseju
Lagos — Captain Emmanuel Iheanacho, the Chairman Board of Trustees of the Crude Oil Refiners Association of Nigeria, CORAN, has called for encouragement of greater investment in the establishment of modular refineries in Nigeria, as a step to improving the fortunes of the downstream oil and gas sector.
Iheanacho, who is also the Chairman of Eko Refineries and Integrated Oil &Gas Nigeria Ltd, told newsmen in a chat on Friday in Lagos that having efficient crude oil refining capacity in modular refineries would address a core energy need to support transportation and businesses that require energy for their daily operations.
Giving an analogy using the United States of America, Iheanacho said "Modular refineries are a logical way to go.
"America is a huge country; it is about one and a half times the population of Nigeria. It has 139 fully functional refineries. And Nigeria has four refineries that are not working. Again, let us look at Texas. How many refineries does it have? Thirty-Two! How many refineries does Lagos have? None.
"So, we have a long way to go. It means we must have means of refining petroleum products, so that we can provide transportation to move goods and services and provide the energy resources to power our industries. These are the basic things that we need.
"If we suspend them and give priority to other areas of our economy, we would not get the benefits that we are entitled to. So, first and foremost, provide energy resources, provide the lighting. These are the things that modular refineries can do.
"The government should actually take into considering the need to have more modular refineries to work in tandem with Dangote Refinery when it begins to produce, because government refineries in Warri, Port Harcourt and Kaduna have not been working. This is why we need the private sector input, in the conception of modular refineries and the operation of these facilities."
Commending President Tinubu's removal of the fuel subsidy, Iheanacho described the subsidy regime as "a total waste." He said the subsidy regime failed to benefit the poor masses it was meant to support get affordable transportation.
"Let's talk about the subsidy issue; it was a total waste. Subsidy was maintained because the masses were supposed to benefit from cheap transportation as a result of subsidy on petroleum products. But the truth of the matter is that the poor people were not benefitting from it at all.
"So, those who drove into a fuel station in their private cars and bought as much as they wanted were the ones who benefitted from the fuel subsidy. The poor masses who were stuck in buses that could buy a maximum of like 100 litres did not benefit from it. And nothing compelled the private car owner to give people a ride as he drives along because he had bought government- subsidised fuel."
Iheanacho, however, highlighted that the masses were yet to feel the gains of the fuel subsidy removal because pricing and volumes were still being dictated rather than being left to market forces to determine.
"We are not surprised that subsidy was removed. But people are disappointed because prices are rising as the expected changes have not fully manifested. A part of the problem is that people are still fiddling with the pricing of petroleum products. The price of petroleum products is not supposed to be dictated by anyone; the volume that is supplied in the market is not supposed to be dictated by anyone.
"All of these things are supposed to be determined by interaction of competitors in the marketplace. So, if there is need for fuel in the market, people bring in fuel, more people bring in fuel and there is greater competition. It brings down the prices and comes down to an equilibrium level beyond which the price could not be dropped again.That is the price that people would pay for it. It would happen once people stop fiddling, calling prices, calling volumes. It happened with diesel."
Iheanacho disclosed that his 20,000 b/d modular refinery project on Tomaro Island, Lagos, was far gone, but seeking further financing to begin construction to which authority had been granted.
"Our modular refinery proposition has gone as far as it can go. Modular refineries are highly capital-intensive facilities. We have articulated this, we have done the engineering studies, we have done the detailed engineering studies, and we have achieved the authority to construct. But we are still at the point where we are trying to raise financing; this is the key drawback. It is very similar to the problems people have with owning ships. It is highly capital intensive," Iheanacho said.
He used the opportunity to raise the issue of challenges in financing such capital-intensive projects without support of the Central Bank.
He said: "Unless you have some specialised financing mechanisms set up by the Central Bank, so that people can borrow money from it, it would be difficult for these things to be actualised.
"It is also a need for us to have specific guarantees with respect to availability of crude, because it is really odd in a situation where the Nigerian government partners some oil-producing companies and then has a share of the oil. It would be odd for the government to be selling that oil on a Free On Board, FOB, bases, whilst there are local refineries that are set up and can use those things and add value.
"So, the time has come when we should match the government's share of the crude to the refining proposition of the local refiners and then have cheap and sufficient fuel for use in our economy and that we can also export to our neighbouring countries."
In the internationally-recognised rules for responsibilities to be borne by buyers and sellers of goods, the Free On Board , 'FOB, Origin' requires the buyer to assume all the risk once the seller ships the product.
Follow us on twitter