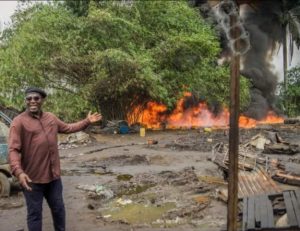 Mkpoikana Udoma
Port Harcourt — The Chairman of Eleme Local Government Area of Rivers State, Mr Obarilomate Ollor, has uncovered what he described as the largest illegal artisanal refining site in Egbalor forest, Ebubu community in the area.
The site, which is about 200 km from the community, has six boiling points, covering hectares of devastated land and swamp.
Ollor, who led security agents and youths from the community into the forest to enforce the directives of Governor Nyesom Ezenwo Wike, regarding the ban on all illegal bunkering activities in Rivers State.

He lamented that the activity was responsible for part of the climatic hazard and soots ravaging Rivers State and its environs, 
describing the site as an epicentre of illegal bunkering activities
Chief Ollor who decried the high level of damage done on the multitude of arable land by the criminal group, called on the Federal and State Governments respectively to swing into action in a bid to immediately correct the errors by providing reparation for the damaged land. 
"With over six boiling points and more, this illegal refining site is located in the fores of Egbalor, called Akpa-Chara, in Ebubu clan, Eleme LGA, Rivers State about 200 kilometers away from the community, covering vast hecters of devastated land and water body."
The Chairman who expressed shock at the level of sabotage done to the nation's economy, said such a venture could not have been effectively undertaken if it was not an organized crime involving the security agents, as it would be impossible to move such products when refined from the location to their end user.
"Government at the State and Federal levels should see our plea as an SOS call because the activities of these criminals have done a great deal of damage to the land and people of Eleme whose live expectancy has been greatly threatened by the soot particles resulting from the illegal and unbecoming act."
The Council boss and his team also invaded some Kpo-fire storage points inside the Federal Ocean Terminal of NPA, Onne Wharf as some were also discovered in an uncompleted building right beside Dangote Cement at FOT Onne.
Ollor commended Governor Wike for declaring war against illegal mining and artisanal refining in the State, an avenue he said revealed so much illegality and criminality that is bedeviling and threatening the well being of the people.
He assured the Governor that he shall carryout the assignment to the later and also warned those involved in the despicable act to desist from it or risk being apprehended.