OpeOluwani Akintayo
Lagos — Abuja Electricity Distribution Company, AEDC, Ikeja Electricity Distribution Companies, IKEDC and Enugu Electricity Distribution Company, EEDC ranked highest on a list of DisCos with the highest number of customers' complaints during the COVID-19 lockdown period.
The list released by the Nigerian Electricity Regulatory Commission, NERC said it had tracked customers level of satisfaction with DisCos services during the period, as a result, listed AEDC to have received the highest customer dissatisfaction tug- total of 604 complaints.
Although the lockdown lasted for four weeks, NERC said the statistics covered for just April 4 through April 17.
Next on the list was IKEDC- 437 complaints, and EEDC with 304 customer complain.
Others were Benin Electricity Distribution Company, BEDC with 216 complaints, Eko Electricity Distribution Company with 257, Ibadan Electricity Distribution Company, IBEDC, 381, Jos Electricity Distribution Company, JEDC, 73, Kaduna Electricity Distribution Company, KDEDC, 168, Kano Electricity Distribution Company, KNEDC, 52, Port Harcourt Distribution Company, PHEDC, 143 and, and Yola Electricity Distribution Company, YEDC, with 54 complaints.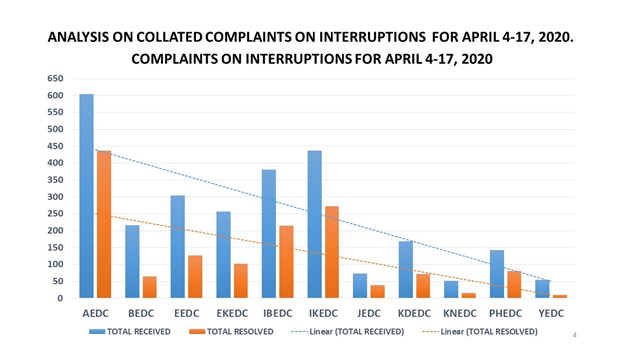 Out of the 604 complaints received by AEDC, 437 were resolved, IKEDC resolved 272 out of 437 while EEDC was able to attend to 126 out of 304 complaints.
Other DisCos such as BEDC resolved 65 out of its 216 complaints, EKEDC solved 102 out of 257, IBEDC resolved 214 of 381, JEDC 39 of 73, KDEDC attended to 72 out of 168, KNEDC 15 out of 52, PHEDC resolved 81 out of 143 and YEDC resolved 10 out of 54.
The NERC noted that focus of the complaints was on power interruption during the lockdown period, adding that a total of 2, 689 of the 3, 225 complaints bordered on interruptions. Total of the 1, 433 were resolved.
During the lockdown, some DisCos were said to have reported having some infrastructural and technical constraints on some of their feeders which NERC said it had intervened to ensure speedy resolution.
The NERC's constituted 'NESI Situation Room' was led by its Commissioners, including its top management staff and the System Operator with the objective of mitigating the risk of service disruptions in the electricity industry.