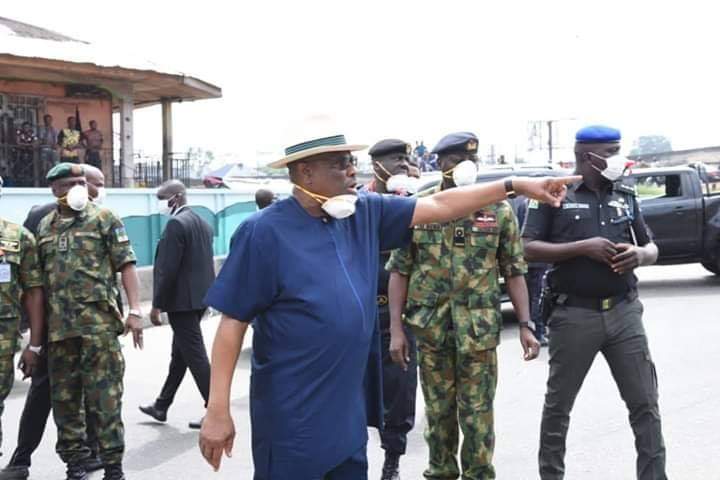 Mkpoikana Udoma
Port Harcourt — Rivers State Governor, Nyesom Ezenwo Wike, on Friday, announced that security agencies have arrested 22 staff of ExxonMobil who entered the state from Akwa Ibom State, in violation of the State's Executive Order on COVID-19.
Governor Wike also announced that Caverton Helicopters has apologised to the State Government over the conduct that led to the arrest of their pilots and passengers who violated the restriction orders of the state.
Addressing a Press Conference in Port Harcourt, Governor Wike stated that the ExxonMobil matter will be a test case in legal jurisprudence in the country.
"Security agencies arrested 22 staff of Exxon Mobil who came into the state from neighbouring Akwa Ibom State in violation of the extant Executive Order restricting movement into the state. We do not know the coronavirus status of these individuals.
"Even though security agencies advised that they be allowed to go back to Akwa Ibom State, I insisted that the law must take its course. This is because nobody is above the law.
"As a responsive government, we have quarantined them in line with the relevant health protocols and they will be charged to court."
The Rivers State Governor alleged that Federal Authorities are working dangerously to compromise the health protection system of Rivers State and thereby make vulnerable to coronavirus.
"Some people want the escalation of the virus in Rivers State. People were paid to canvass a negative narrative on Caverton Pilots.
"We are doing what we can within available resources to fight coronavirus. You can fly , but as you fly and land, don't enter our territory.
"We will fight this matter legally. ExxonMobil does not operate in Rivers State. That they have a point at the Onne seaport does not mean that they operate in Rivers State.
"People in Abuja are not happy. They want Rivers State to be infected. They want to kill Rivers people and I will not allow it. I was elected to protect Rivers people. Rivers State is not a pariah State.
"Nigerians shake when they hear oil companies, they shake because they have compromised. Imagine an appointed Minister issuing an order to an elected Governor. They wanted to rig us out and lost. Recall that the Former DG of DSS ordered his men to leave the INEC Collation Centre for the invasion of the Centre. They lost.
"The right must be done. We are talking about something that is killing people. They want coronavirus to escalate in Rivers State. The law must be tested. Make sacrifice and let us contain the virus."
Governor Wike said that Rivers State cannot be manipulated from any quarters.
"Nobody will use Rivers State as a toy. This Federal Government does not like us, but a government will come that likes Rivers State.
Governor Wike stated that the State Government followed due process in its actions against Carveton Helicopters. He noted that State Government was focused on implementing extant laws aimed at protecting Rivers people.
Governor Wike noted that his administration established the right legal framework to assist it effectively fight against the spread of coronavirus.
The Governor said that the law will take its course.
"People selling Akara are being charged to Court in Lagos. But they want us to allow oil companies to flout the law. I am a boy to Rivers people, not to anybody outside Rivers State.
"You have been fighting Rivers State since 2015. They challenged me in 2015, I defeated them. In 2019, I defeated them. There is no third term."
The Governor commended the management of the NLNG for cooperating with the State Authorities to fight the spread of coronavirus.
"I must commend the management of Nigerian Liquefied Natural Gas Limited (NLNG) for obeying the established health protocol to check the spread of coronavirus. They have consistently liaised with the State Government in the movement of their staff on essential duties. This is what is expected of a responsible corporate organization," he said
The Governor said that nobody can threaten Rivers State with strike. He said the state is ready to tackle anyone trying to compromise the health of the State.