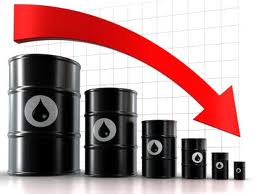 *Brent falls to 9-month low
14 April 2013 – Crude-oil futures prices fell sharply Friday, hit by growing worries over rising U.S. oil supplies and slowing growth in global oil demand.
ICE North Sea Brent crude-oil futures, a key global benchmark, dropped for a third straight day, settling at a nine-month low.
Traders said Brent is under pressure from continued worries about weakness in European economies and reduced demand caused by refinery maintenance in Europe and Asia, along with growing competition from rising U.S. oil output.
U.S. benchmark oil futures settled at five-week lows as crude oil inventories have risen to their highest level since July 1990, even as domestic refiners have lifted crude oil processing rates to the highest early April level in eight years. Those busy processers are increasing supplies of gasoline, erasing concerns about tight supplies ahead of the peak spring-summer driving season, which looks to be stuck in reverse this year due to weak demand.
Government forecasters, while warning of a slowdown in the growth of global oil consumption, expect demand for gasoline –the most widely used petroleum product in the world's biggest oil consumer–to slip to a 12-year low in the peak season. The EIA said U.S. vehicles' increased miles per gallon more than offsets the expected rise in miles traveled, the EIA said.
Spurred by the weak outlook and news that inventories in the key East Coast region now top five-year averages, traders slashed gasoline futures by 14 cents as gallon over the past three sessions, leaving prices at a three-month low on Friday.
"It's simply a supply-demand situation," said Dan Flynn, an analyst at Price Futures. "We've basically got more supply here than we know what to do with."
Light, sweet crude oil for May delivery on the New York Mercantile Exchange settled 2.4%, or $2.22 lower, at $91.29 a barrel, the lowest price since March 6.
ICE North Sea Brent for May delivery settled 1.1%, or $1.16 a barrel lower, at $103.11 a barrel, after an intraday low of $101.09 a barrel.
Forecasts this week from the U.S. Energy Information Administration, the Organization of the Petroleum Exporting Countries, and the International Energy Agency call for demand in the current quarter to drop by 180,000 to 400,000 barrels a day from the first-quarter level. That compares with a quarter-to-quarter rise at this time last year of 300,000 barrels a day, according the IEA, the energy watchdog of the major industrialized nations.
Tim Evans, analyst at Citi Futures, said prices have been hit hard by a "relatively consistent gloomy picture that is weighing on market sentiment."
Weak seasonal demand in the current quarter means, "there's simply no reason to anticipate a quick recovery," Mr. Evans said. "Demand and prices may rebound in the third quarter, but it will likely begin from a lower price level."
Analysts at Barclays said current oil-price weakness is "transient" and demand will pick up in coming months, as European refiners return from maintenance by late May and boost crude oil demand. Asian refiners are expected to wrap up seasonal work in June, providing a further lift for crude prices.
Lower global refiner demand for Brent comes as imported crudes are losing market share in the U.S. due to rising domestic output. PBF Energy Inc. said this week it plans to process up to 70,000 barrels a day of crude oil from North Dakota's Bakken shale oil region at its 190,000 barrels-a-day refnery in Delaware, a move which analyst said will lower crude imports, adding to pressure on Brent crude prices.
Gene McGillian, broker and analyst at Tradition Energy noted that U.S. crude prices have fallen by more than more than $7.50 a barrel since the April 1 high of $97.80, and said good part of the worries about the global economy may be factored into current prices.
"We may see a test of $90 a barrel, but I don't think the bears will get much more ferocious unless we get signs a further downturn," he said.
May reformulated gasoline blendstock futures settled 1%, or 2.92 cents, lower at $2.8018 a gallon, the lowest price since Jan. 18.
May heating oil futures fell 2.73 cents, to settle at $2.8719 a gallon, the lowest price since March 19.
*David Bird, Rigzone