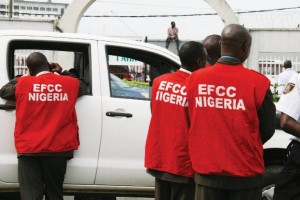 29 May 2013, Abuja – The Nigerian Army, has handed over a vessel suspected to have been used for oil theft and 25 suspects to the Economic and Financial Crimes Commission, EFCC, for prosecution.
The vessel, MT Swordfish, comprising two barges, was arrested by soldiers for engaging in oil theft and economic crimes against Nigeria.
Apart from confiscating the vessel, the soldiers also arrested the three crew members and two staff of the Liberty Jetty Elegbata, Marina, Lagos, where the vessel was detained.
The soldiers also arrested 20 other suspects in connection with the oil theft and detained them along with the crew members.
On Monday, Col. H. I. Dasuki of the 81 Division of the Nigerian Army formally handed over the vessel and the 25 suspects to the EFCC for further investigation and prosecution.
The crew members were: Akume Surprise (Captain), Boglo Babatunde Peter, ThankGod Obozuruike; Korlee Uebari; Francis Eze; Gaius Ike; Peter James; Hafeez Jalaruru, Olajumoke Sulaiman, Kelvin Ajike, Abdulraham Kareem, Oluwaseun Owoade and Ifeanyi Lawrence.
Others were: Alhassan Hoseli, Kennedy Adoge, Bello Taofik, Ibrahim Ajibade, Ibrahim Yakubu, Nafiu Useni, Kenneth Osei, Annas Mohammed, Ibrahim Mohammed, Hamisu Saidu, Sulaiman Musa and Umar Mohammed.
The army also handed over six trucks seized from the suspects as exhibits to the anti-graft agency.
Col. Dasuki, while handing over the vessel and crew to the Commission said the arrest was made at about 0400hrs on 22 May, 2013, following intelligence report.
According to him, the arrest was made by men and officers of "OP MESA" who raided the Liberty Jetty, Marina.
Dasuki urged the Commission to carry out further investigation on the source of the petroleum products and the operations of the vessel.
Receiving the hand-over documents, Mr. Aliyu Aminu, Head, Counter-Terrorism and General Investigations, EFCC Zonal Office, Lagos, assured that the Commission would do its best in investigating the case.
A sample of the product was taken by operatives of the Commission for analysis.
Oil theft in and around Nigeria's vast water has become a major source of economic loss to the country. Militants in the Niger Delta, aided and abetted by top-ranking Nigerian politicians and businessmen, depend on oil theft for their livelihood, claiming that the natural resource is their God-given wealth.
The government claims oil theft has blossomed in recent months, leading to a significant drop in national revenue.
*Soni Daniel