08 October 2014, News Wires – World oil prices resumed a months-long rout on Tuesday to close at their lowest in more than two years, pressured by reduced economic and demand growth forecasts.
US crude oil prices fell faster than Brent, reversing a weeks-long compression in the Brent/WTI spread amid signs that US refiners are starting to buy cut-priced West African or Mediterranean crudes, re-opening a once common arbitrage, Reuters reported.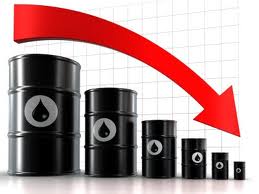 US crude slid further after settlement, when an industry group reported a unexpectedly large rise in inventories.
The International Monetary Fund cut its global economic growth forecasts for the third time this year, warning of weaker growth in core euro zone countries, Japan and Brazil. And German industrial output fell in August at its steepest rate since January 2009.
"The IMF forecast is weighing on (demand) sentiment," said Phil Flynn, an analyst for the Price Futures Group in Chicago.
A lower forecast for global oil demand for 2014 and 2015 from the US Energy Information administration (EIA) on Tuesday added to the bearish outlook.
Brent November crude fell by 68 cents to settle at $92.11 a barrel. Brent fell to a contract low of $91.25 on Monday before recovering in late trading.
US November crude fell by $1.49 to $88.85, then slid further in late trade.
The spread between the two benchmarks widened to $3.26, after touching a low of $2.08 earlier in the session, its narrowest in a year. That has opened a window for some East Coast refiners to buy Nigerian or Azeri crude instead of costlier domestic crude.
"We're seeing some short-covering in that spread," said Gene McGillian, an analyst at Tradition Energy in Stamford, Connecticut.
"It's giving some firmness to Brent and putting selling pressure on US crude."
Iran Oil Minister Bijan Zanganeh said Opec has no plans to hold an emergency meeting to discuss the recent slide in oil prices.
Opec oil ministers are scheduled to meet in Vienna on 27 November to consider adjusting their output target of 30 million barrels per day.
"Until Opec makes some moves to reduce supply, oil prices are likely to remain under pressure," said Carsten Fritsch, senior oil and commodities analyst at Commerzbank in Frankfurt.
The number of net Brent crude long futures and options positions on the Intercontinental Exchange (ICE) fell by nearly a sixth in the week to 30 September, ICE data showed on Tuesday, another sign of waning investor expectations for higher prices.
Crude inventories rose 5 million barrels in the week to 3 October to 360 million, data from industry group the American Petroleum Institute showed on Tuesday, far exceeding analyst expectations of 1.5 million barrels.
Oil prices slid further after the API report, reaching $88.46 in post-settlement trade.
Crude stocks at the Cushing, Oklahoma, delivery hub fell by 59,000 barrels, API said.
– Upstream