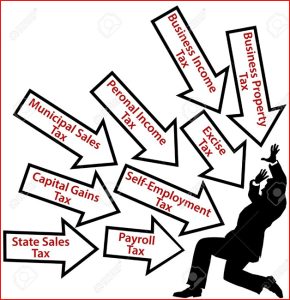 – Sensitize traders on tax payments, benefits
Mkpoikana Udoma
Port Harcourt — In a bid to create a more inclusive, participatory, transparent and accountable resource governance in Rivers State, a coalition of civil society groups in Rivers State have carried out a sensitization training on taxation, benefits of taxes and tax compliance for traders in the State.
The coalition known as Tax Justice and Governance Platform, with fundings from Oxfam, during a sensitization programme for the National Association of Nigeria Traders in Port Harcourt, said there was need to create space for partnership between the government and traders in the state.
Speaking, the Coordinator, Rivers State Tax Justice and Governance Platform, Mr. Amaechi Kelechi Justice, decried that the informal sector faces the challenge of multiple taxation, while markets in the state lack basic facilities, despite the multiple layers of taxes from the traders, which according to him was called rates or levies.
Justice, who disclosed that the Platform was a network of civil society organisations working to promote fair and progressive taxation in Rivers State, added that it was imperative for citizens to see what their taxes are being used for, while also being compliance with their tax payments.
"The are also issues of using excessive force in collecting these taxes from the traders, which gives rise to gender-based violence, since most traders are women.
"Market leaders are imposed on the traders by the government, that means their fundamental rights of freedom of association is infringed. So, we are building their skills in advocacy strategy, communication and organising themselves to engage with stats actors and achieve best results.
"In terms of tax to service agreement, a certain percentage of the rates, levies and taxes paid by traders should be used to address the specific needs of the people. Like sanitary facilities, loading bays, storage space, car parks etc."
Also speaking, the Chairperson of the Society of Women in Taxation, Dr Eunice Odum, explained that that there have been a lot of levies being collected from traders which do not represent taxes, which she said was the essence of the sensitization.
"There are lots of levies in the market which do not represent government tax and are not remitted to the government. And so when it comes to the benefits of tax, they (traders) do not get it because they have no tax clearance certificates which are given to those who pay tax to the government, and so the tax authorities do not have their details, their tax returns or anything that makes them tax compliant citizens.
"The tax that is attributable to traders is not much and its about 1percent per annum, which in some cases is not more than N5,000 per annum. But it must be paid to the right agency and tax clearance certificates issued, cause those certificates can be used to access loans and other facilities."
Earlier, the Rivers State Chairman, National Association of Nigerian Traders, Mr. Daniel Iheme, urged the state government to intervene in the provision of car parks and maintenance of markets in the state.
Iheme also disclosed that some traders in Mile One market are levied up to N8,000 per annum.
"If you enter inside the market, you will see somethings that the government are supposed to do but those things are not done. There are no parks in the market. There are no toilets. Some of the roofs are falling off, most of the floors are broken and yet to be fixed but we pay yearly maintenance fees to the government. It's only the traders who use their money to fix it.
"We want the state government to intervene in the provision of car parks and maintenance of markets in Rivers State."