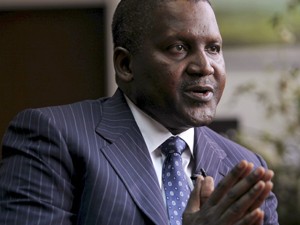 14 April 2013, Lagos – Indications are that the Dangote Group, a Nigerian manufacturing giant has commenced moves to build a petroleum refinery and petrochemicals plant in Badagry, Lagos, with capacity to process 300,000 barrels of crude oil per day, at a cost of $8 billion
Checks revealed that the Group is currently in the process of securing the necessary permits from the regulatory authorities, while an environmental impact assessment, EIA, has been completed.
While speaking with some journalists to mark his birthday at the weekend, Aliko Mohammed Dangote, President of the Dangote Group served notice a decision had been made to go ahead with the project.
On the challenge of building a refinery in a regulated environment, he said "maybe we at Dangote now would be referred to as being insane because we are going ahead to build a refinery very soon in Nigeria."
He disclosed that just like the Group did with other entities in its ownership it would be sold to the public through a listing on the stock market.
"If you build the refinery alone you might not make so much money but you'll need to build a petro-chemical plant because of the by-products. "The investment is going to be about $8billion.
"Meanwhile the fuel they import for us is the worst and we pay them for the best. "When we have our refinery, we would sell to them here and we can even cut the cost – no shipping, no demurrage. "We cannot continue to behave the way we are behaving now.
"Look, by 2020, Nigeria's population is expected to hit 200million. So, how would you handle cargo or shipping of products for 200 million people with the existing facilities that we have today? How would you distribute? The pipelines are not functioning; the roads are not good. The ports are not there. We should make up our minds on what we want to do. Something drastic needs to be done," he enthused.
Petroleum subsidy
Aliko Dangote noted that Nigerians need to understand the issues and place government policies within the right context.
"At lunch with one African president, he told me how his country dealt with the issue of subsidy and how people resisted. When they had subsidy on diesel, some people changed their cars to cars that ran on diesel; that when they removed subsidy on diesel, the bills went down but kerosene which still enjoyed subsidy had its bills going up. He said it was not easy but he prayed over it and went ahead to do it in a systematic way such that funds which would have gone into subsidy were dedicated for some specific projects. Now that president even charges 10% on PMS and diesel.
"But when President Jonathan tried removing the subsidy on petrol, Nigerians went wild in anger. Would you believe that in 2011 and 2012, Nigeria paid $30 billion in subsidy, money which would have been used to build at least 20 refineries – that was the finding of a report! How can we say that people are stealing crude and we are running about, going to night clubs and we are happy as a people?
Scavengers
"We have scavengers who hold licenses but wait and do nothing. People just grab opportunities and wait to see what happens rather than operate with the licenses "Government has issued 19 licenses for refineries and everybody is holding the licenses and claim that they are waiting for foreign investors. Mind you, the foreign investors are not fools".
"The total tax collected in Nigeria is just about $10 billion. How much is that in a country as big as Nigeria," he queried.
"If today oil prices collapse, do we have alternatives?
"I tell people that we do. Some of us may be manufacturing in our own little way, but in a very big country like Nigeria with its population, that is simply not enough.
"We are heavily into cement – meanwhile limestone is the cheapest of all the mineral resources we have. There are other minerals that are even more lucrative and more profitable that government is looking to exploring.
"The problem is that even when you begin to explore, how do you move the goods around.
"We've also been talking about new ports but there are challenges".
Vision & planning
"For us at Dangote for instance, just conception and planning sometimes take two years, you must also put in place processes of how to execute the plans. Our vision in the next five years is to be a company that has about $75billion in market capitalization, be number one in Africa and one of the first 100 in the world".