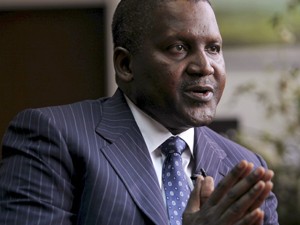 05 September 2013, Abuja – The President of the Dangote Group, Aliko Dangote, said about 8,000 engineers would be needed for the smooth take off of the nine- billion- dollar Dangote Refinery/Fertiliser plant in Ondo.
Dangote told State House correspondents on Wednesday in Abuja that the project, when completed, would provide direct and indirect jobs for 85,000 Nigerians.
He said the group had secured a 3.3 billion-dollar credit facility from a consortium of banks for the project.
According to him, importation of petroleum products will end by 2016 as the plant will commence production in the next three years.
He said his plan was to make the country self-reliant in petrochemical and petroleum products, as well as make it an industrial giant.
"Now, Nigeria is going to be taken out of the list of countries that import petroleum products. We will produce 20 million metric tonnes which is equivalent to what Nigeria consumes currently.
"Today, we did the signing ceremony, the vice-president came to witness the signing but we insisted on coming to  thank Mr president for his policies .
"Without good government policies, there is no way the private sector can invest in Nigeria, because we are not Father Christmas at all. The policies have to be right,'' he said.
According to Dangote,  Nigeria currently spends about 30 billion dollars annually on importation of petroleum products.
He said the complex planned by his group would make Nigeria a net exporter of petroleum products, including diesel and aviation fuel, as well as poly-propylene and fertiliser.
– NAN