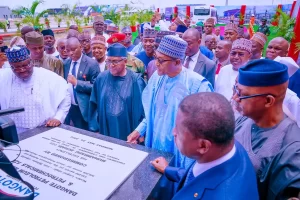 *President Muhammadu Buhari inaugurating the Dangote Refinery in Ibeju Lekki, Lagos State on Monday
Mkpoikana Udoma
Port Harcourt — 
The Independent Petroleum Marketers Association of Nigeria, IPMAN, says though the
operations of Dangote Refinery
will end fuel scarcity in the country, it will negatively affect the nation's inflation rate as the refinery's fuel price would reflect international competitive rate.
This is as President Muhammadu Buhari commissioned the $18 billion single-train refinery in Ibeju-Lekki axis of Lagos, with the capacity to refine 650,000 barrels of crude oil per day.
Reacting to the start up of the plant, IPMAN said the operations of Dangote refinery will force the government to sell off the nation's four refineries, as they (government)  will not be able to compete with a private business like Dangote refinery.
IPMAN Chairman in Rivers State, Dr Joseph Obele, however, congratulate the Chief Executive officer of Dangote Group, Alhaji Aliko Dangote, saying that his refinery will lead to business boom and expansions in the country's oil and gas sector.
Obele, speaking to SweetcrudeReports in Port Harcourt, said Dangote refinery was a great news for Nigeria and Africa at large, but a bad news to long time subsidy cabal as their reign of importation and subsidy fraudulent payment will automatically come to an end.
"It is expected that once the refinery commences operations, the pressure on Nigeria's Naira will reduce and significant inflow of foreign currencies.
"Hopefully, there will be availability of fertilizer for farmers, but a global competitive rate. There will also be availablity of Jet Fuel, ATK, PMS, DPK and AGO in large quantity, but at a global competitive rate.
"Unfortunately, the Dangote refinery will negatively affect the worrisome inflation of our nation which is currently at 22.04percent since his fuel price shall reflect international competitive rate.
"Secondly, it will lead to the sales of the nation's owned refineries, Because no government agency such as NNPC can stand competition with a private firm like Dangote that operates the competitive game theory as strategy.
The biggest news is it will mark the end of fuel scarcity, but a beginning of a global competitive selling price," IPMAN said.