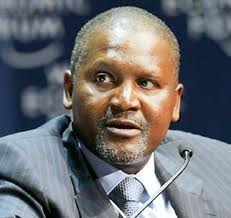 28 August 2013, Lagos – Dangote Group said, Tuesday, it will borrow $3.3 billion to build a $9 billion oil refinery and petrochemical complex.
The Nigerian group, with interests ranging from cement to oil and gas, also said it was seeking a further $2.25 billion from development funds for the project, into which it would put $3.5 billion of its own equity.
The loan will be signed with financiers on September 4, it said in statement. Owner of the group, Aliko Dangote, divulged plans for the refinery in April.
The Dangote Group makes up 30 percent of Nigeria's bourse.
Dangote told Reuters then that the refinery will have a capacity of around 400,000 barrels a day by late 2016, almost doubling Nigeria's refining capacity.
"We are not resting on our oars," group spokesman, Anthony Chiejina said, adding that the complex, including petrochemical and fertilizer plants, "could be the single largest contribution to this government's economic transformation agenda."
Nigeria currently has the capacity to produce some 445,000 barrels per day among four refineries, but they operate below that, owing to decades of mismanagement.
Nigeria relies on subsidised imports for 80 percent of fuel needs.
Dangote says the refinery will still be profitable, although industry experts say that would only be the case if the government guarantees crude supplies at well below the market rate— or subsidises his end-product.