01 May 2015, Lagos – Chairman, Dangote Group, Alhaji Aliko Dangote has announced plans to invest about N500 billion, an equivalent of $2.5 billion in the construction of two sub-sea 550-kilometer gas pipelines in Nigeria.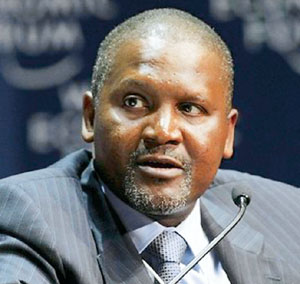 The project, according to a report by Bloomberg, will boost Nigeria's gas output by three trillion cubic feet to four trillion cubic feet per day.
Dangote disclosed that the laying of the pipes is expected to begin before the end of the year, adding that the first pipeline should be ready by the middle of 2017.
According to Dangote, the gas pipelines project which will run from the oil producing regions of the Niger Delta to Lagos State, is expected to be co-financed by the International Finance Corporation, IFC, and global private equity firms — Carlyle Group LP and Blackstone Group LP.
Dangote stated that the pipeline project will increase the amount of gas available in Nigeria to four billion standard cubic feet per day from one billion cubic feet.
He further stated that the project will help boost domestic supply in the country, which will also bring about an increase in electricity generation.
Incentive to sell gas
"Having an additional three billion Standard Cubic Feet (SCF) will sort out all the gas issues we have today in Nigeria. It is badly needed. We have a lot of companies that are very interested in participating in the venture," he noted.
Dangote said the pipelines, when completed, could be used by oil and gas companies in the country that currently have little incentive to sell gas from their fields.
"If today they process gas, there is no infrastructure to remove it, there is no pipeline. We are trying to build that infrastructure," he explained.
Speaking further, Dangote stated that the Federal Government had earlier in the year, granted operating license to Dangote Group's refinery, adding that the company will export refined petroleum products to the rest of sub-Saharan Africa as well as sell it locally.
According to him, by the first quarter of 2018, the company will be in the market with petroleum products from the refinery.
He also stated that one of its companies, Dangote Cement Plc will be ready to list its shares in London by the end of 2016. He noted that in the meantime, the company is addressing investors' concerns about the composition of its board and other corporate governance issues.
He said: "There are a lot of criteria we have met. Our aim is to create a world class company." That's why we are going to London. It's not purely because we are looking for money.