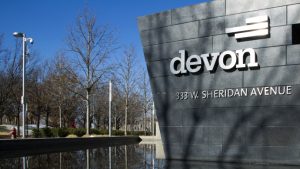 21 February 2019, News Wires —Oil and gas producer Devon Energy Corp reported a better-than-expected quarterly production on Tuesday, aided by more output from its U.S. shale assets.
The company reported production of 532,000 barrels of oil equivalent per day (boe/d) in the fourth quarter ended Dec. 31, while analysts had expected 527,060 boe/d, according to IBES data from Refinitiv.
Oklahoma-based Devon also said its board had authorized the sale of its assets in Canada and in the gas-rich Barnett shale patch in the United States, to become a pure-play oil producer.
Also Read: Azerbaijan expects flat oil output in 2019, gas to rise 20 pct
http://sweetcrudereports.com/2019/02/21/azerbaijan-expects-flat-oil-output-in-2019-gas-to-rise-20-pct/
Like and follow on facebook & twitter
Reuters