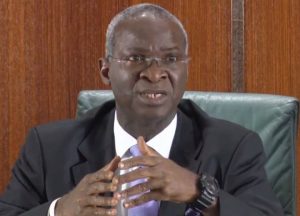 …Four firms achieve 50% metering
*Babatunde FasholaOpeOluwani Akintayo
01 September 2018, Sweetcrude, Lagos — Despite the call by Minister of Power Babatunde Fashola for improved metering of customers by the power distribution companies, Discos, available figures shows that the Discos have underperformed in terms of the number of meters given out to customers as at third quarter of 2017.
By under-performing on metering, the Discos have flouted part of their agreement with the Bureau of Public Enterprise, BPE, which oversaw the handover of erstwhile Power Holding Company of Nigeria, PHCN, distribution assets to the Discos about four years ago.
Metering status obtained from the Nigerian Electricity Supply Industry, NESI, showed that only four out of the 11 Discos have achieved 50 percent metering of customers under their jurisdiction.
A total of 7,476,856 customers were registered as at the end of the third quarter of 2017, however, only 46% were metered, leaving a metering gap of 54%.
During the quarter under review, only 25,504 customers were metered, which is grossly lower than the quarterly average of 410,103 meters expected of Discos as stated in their performance agreement with the BPE.
The data showed that Benin Disco achieved 69.5 percent metering in the period under review while Eko Disco achieved 60.7 percent; Ikeja Disco, 55.9 percent; and Abuja Disco, 52.2 percent.
Jos Disco achieved 48.7 percent metering; Port Harcourt Disco, 48.5 percent; Ibadan Disco, 41.3 percent; Kaduna Disco, 37.2 percent; and Kano Disco, 37.4 percent.
The Enugu and Yola Discos achieved the least metering coverage within the period, with 27.7 percent and 23.6 percent respectively.
The electricity market regulator, Nigerian Electricity Regulatory Commission, NERC, in its report for the third quarter 2017 released on Tuesday, said a key initiative towards improving revenue collection in the electricity industry, is the provision of meters to all end-use consumers of electricity.
According to the report, the Discos in the third quarter of 2017, collectively sent out bills totaling ₦151.75 but only ₦90.30 billion was recovered through collections.
This, NERC said represents an average of 55% collection efficiency, implying that of every ₦10 worth of electricity sold during the quarter, ₦4.50 remained uncollected from customers.