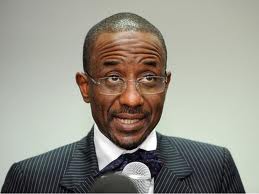 14 August 2013, Abuja – The N4.423 billion in dispute between the Petroleum Products Pricing Regulatory Agency, PPPRA, and the Nigeria Extractive Industries Transparency Initiative, NEITI, has been reconciled and traced to the Petroleum Support Fund, PSF, account domiciled with the Central Bank of Nigeria, CBN.
The resolution of the disputed amount followed a reconcilaitory meeting by the two organisations.
A communique, which was signed by the Executive Secretaries, Mrs. Zainab Ahmed and Mr Reginald Stanley of the NEITI and PPPRA, said: "There is nothing outstanding against the PPPRA."
The communique said the meeting evolved strategies for NEITI and PPPRA to address other issues arising from the NEITI Report, adding that it used the platform of the Inter-Ministerial Task Team, IMTT, set up by President Godluck Jonathan to address remedial issues arising from NEITI's Report.
The executive secretaries also resolved to ensure the effective communication network between the two agencies for Inter-agency cooperation.
The statement reads in parts: "Following the sustained media engagement between Petroleum Products Pricing Regulatory Agency (PPPRA) and the Nigeria Extractive Industries Transparency Initiative (NEITI), over the recently released 2009-2011 Industry Audit in the Oil and Gas Sector, and the findings as they affect PPPRA, a joint meeting between the two Agencies was held today (yesterday), August 13, 2013, in Abuja, with the Managements of the two Agencies in attendance."