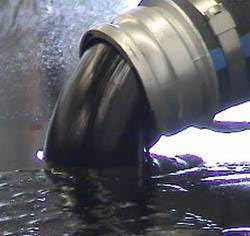 11 April 2014, Lagos – The U.S. Energy Information Administration (EIA) has projected that the Organization of the Petroleum Exporting Countries (OPEC) oil production would fall by 0.2 million barrels per day in both 2014 and 2015, as a result of supply disruptions in Nigeria, Libya and Iraq.
However, the world petroleum and other liquids supply would increase by 1.4 million bpd in 2014 and 1.3 million bpd in 2015, with most of the growth coming from countries outside OPEC.
EIA said that unplanned crude oil supply disruptions among OPEC producers averaged 2.6 million bpd in March 2014, 0.3 million bpd higher than the previous month. Libya continues to experience swings in its production, contributing to changes in the OPEC disruption estimate.
It noted that unplanned disruptions in Iraq escalated in March, averaging nearly 0.4 million bpd, as a result of attacks on the Kirkuk-Ceyhan pipeline.
EIA expects that OPEC surplus capacity, which is concentrated in Saudi Arabia, will average 2.3 million bpd in 2014 and 3.6 million bpd in 2015.
It expect the United States and Canada to account for much of this growth. "Projected world liquid fuels consumption grows by an annual average of 1.2 million bbl/d in 2014 and 1.4 million bpd in 2015. Countries outside the Organization for Economic Cooperation and Development (OECD), notably China, drive expected consumption growth", it said.
According to the global watchdog, the combination of increased non-OPEC total liquids supply and OPEC non-crude supply would exceed world liquids demand growth over the next two years.
It noted that forecast of non-OPEC supply growth also contributes to an increase in global surplus crude oil production capacity from an average of 2.1 million bpd in 2013 to 3.6 million bpd in 2015.
EIA expects global consumption to grow 1.2 million bpd in 2014 and 1.4 million bpd in 2015.
It stated: "Projected global oil-consumption-weighted real GDP, which increased by an estimated 2.3 per cent in 2013, grows by 2.9 per cent and 3.4 per cent in 2014 and 2015, respectively.
"Non-OECD countries account for all of the expected consumption growth in 2014 and nearly all of the growth in 2015. China is the leading contributor to projected global consumption growth, with consumption increasing by 400,000 bpd in 2014 and 430,000 bbl/d in 2015.
"However, China's economic and oil consumption growth rates have moderated compared with rates before 2012, when annual GDP growth exceeded nine per cent and oil consumption growth averaged almost 800,000 bpd from 2009 through 2011".
The agency also projected a lower OECD consumption in 2014, led by projected consumption declines in both Japan and Europe.
EIA expects Japan's oil consumption to fall by an annual average of 150,000 bpd in 2014 and 2015, as the country continues to increase natural gas and coal consumption in the electricity sector and returns some nuclear power plants to service in the second half of 2014 and in 2015.
EIA projects that OECD Europe's consumption, which fell by 100,000 bbpd in 2013, will decline by 60,000 bbl/d in 2014 and then remain relatively flat in 2015. U.S. liquids consumption, which increased by 400,000 bpd in 2013, is expected to remain relatively flat in 2014 and then increase by 90,000 bpd in 2015.