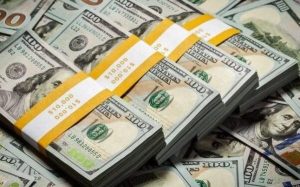 – Dollar battered on expectation U.S. rates peak in July
– Euro, yen, Aussie, kiwi, sterling and franc edge to new highs
– Dollar index below 100.5, lowest since April 2022
Singapore — A sliding dollar was pushed lower still in Asia on Thursday, as traders took surprisingly slow U.S. inflation as a signal U.S. interest rate rises will be all but finished by month's end.
The dollar has been steadily slipping for about six weeks but had its worst session in five months on Wednesday – falling more than 1% against the euro to its lowest in more than a year – as the U.S. inflation slowdown gave dollar sellers confidence.
The euro made a fresh 15-month high of $1.1148 in Asia on Thursday and the yen touched its strongest since mid-May at 138.08 per dollar. The U.S. dollar index fell marginally to 100.42, its lowest since April 2022.
U.S. core inflation came in at 0.2% in June against market expectations for 0.3%. Headline annual CPI fell to 3% and has been dropping since hitting a peak at 9.6% a year earlier.
Interest rate futures showed markets have fully priced a Federal Reserve rate hike later this month, but expectations of any further increases are being wound back.
"The view is that the Fed will very likely hike at the end of July and that will be the last one," said Westpac strategist Imre Speizer.
The New Zealand dollar rose 0.5% to a two-month high of $0.6332 and the Aussie was up 0.4% to a three-week peak at $0.6813.
Moves in other currencies were smaller but still delivered new milestones as traders reckon the dollar has further to drop. The Swiss franc hit its strongest since 2015 at 0.8655 to the dollar and sterling a 15-month top of $1.3019.
The Chinese yuan steadied near a one-month high at 7.1675 per dollar, held back by weak trade data that showed exports diving at their fastest pace for three years.
Emerging market currencies also rallied across Asia, led by Malaysia's ringgit which jumped 1% and through to the strong side of 4.6 per dollar. Thailand's baht held small gains while traders waited to see whether prime ministerial hopeful Pita Limjaroenrat could command a majority in parliament.
In Scandinavia, where inflation is looking sticky and central bankers are projecting further rate hikes, currencies tacked extra gains to Thursday's surges for the Swedish and Norwegian crowns to eye weekly gains of 5%.
"We think the recent dollar underperformance reflects a qualitative shift in market comfort with being short dollars as the terminal Fed policy rate looks increasingly capped," said currency analyst Steve Englander at Standard Chartered.
Two-year Treasuries, which track rate expectations, extended an overnight rally driving yields down 4 basis points to 4.71%.
Amongst the dollar selling, one outlier was perhaps the yen which has led gains. It is up more than 4% in five sessions, but paused in Asia as the focus turned to whether the Bank of Japan (BOJ) might soon tweak its yield control policy.
The closely-watched 10-year yield fell slightly to 0.46% on Thursday, comfortably below the BOJ's 0.5% cap, suggesting only modest speculation of a policy shift as the possibility of easing inflation reduces some of the pressure.
"Governor (Kazuo) Ueda has maintained, thus far, that the risks of moving too early outweigh the risks of moving too late," said DBS strategist Chang Wei Liang.
"Certainly, the Fed entering the tail-phase of rate hikes provides relief and allows the BOJ to normalise policy at their own desired pace."
European Central Bank meeting minutes, European industrial production data and British monthly GDP are ahead on Thursday.
*Tom Westbrook; Editing: Jamie Freed & Kim Coghill – Reuters
Follow us on twitter