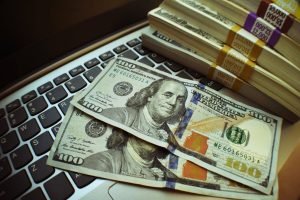 Singapore — The dollar sank to a two-month low on Wednesday ahead of a key read of U.S. inflation, while sterling hit 15-month highs after wage growth data fed expectations that the Bank of England (BoE) has further to go in raising rates.
The yen jumped to a one-month high and strengthened past 140 to the dollar for the first time in a month, helped by a drop in U.S. Treasury yields and by growing expectations that the Bank of Japan (BOJ) will unveil changes to its ultra-low interest-rate policy at this month's meeting.
Investors were laser-focused on U.S. inflation data due later on Wednesday, with expectations for core consumer prices to have risen 5% on an annual basis in June. The figures could give a steer on how much more the Federal Reserve might raise interest rates.
Ahead of the release, the U.S. dollar fell to a two-month low against a basket of currencies, underperforming most notably against the Japanese yen, which strengthened past 140 yen per dollar for the first time in a month.
The key number in the consumer price report will likely be the monthly change in the rate of core inflation, which excludes food and energy prices, according to Jordan Rochester, currency strategist at Nomura.
A number of indicators are pointing clearly to a marked drop in inflation, including used-car prices, meaning some in the market are looking for a rise of just 0.2% in the core rate in June. Economists polled by Reuters expect a rise of 0.3%.
"In terms of the latest rhetoric and narrative, people are looking for 0.2%. That's what we're looking for. If we get 0.3%, that's slight dollar strength, so we could see dollar/yen above 140. If we get 0.4%, it means all the models are wrong and we're missing something," he said.
"I think that will materially move the needle, because all the other charts we have suggest that inflation pressures in the U.S. really are slowing down quite aggressively," he added.
Against the yen, the dollar fell by as much as 0.76% to a one-month low of 139.32.
"BUY THE RUMOUR"
Meanwhile, the euro rose 0.2% to $1.1027, nudging at two-month highs, while the Swiss franc rose 0.3% to a 2-1/2 year high of 0.8765.
"We're already seeing markets move in anticipation of a softer U.S. inflation report," said Matt Simpson, senior market analyst at City Index. "That runs the risk of a 'buy the rumour, sell the fact' reaction if the figures come in around expectations."
Sterling hit a 15-month high of $1.2970, driven by expectations for the BoE to deliver more rate rises to tame UK inflation, which is running at the highest rate of any major economy.
Data on Tuesday showed a key measure of British wages rose at the joint fastest pace on record as basic earnings in the three months to May surged 7.3%, above forecasts for a 7.1% rise.
Markets are priced for a peak BoE rate of around 6.4% by March, up from 5% right now.
U.S. Treasury yields, meanwhile, continued to fall, sapping the dollar. The benchmark 10-year note yield was last down 3 basis points at 3.905%, heading for its third straight day of declines. Two-year yields fell 4 bps to 4.85%.
Elsewhere, the New Zealand dollar was last up 0.1% at $0.6202, having fluctuated in choppy trade after the Reserve Bank of New Zealand (RBNZ) kept rates on hold as expected and flagged that they would remain on hold for some time.
The Australian dollar was flat at $0.6686.
*Amanda Cooper, Rae Wee; Editing: Jamie Freed, Edmund Klamann & Emma Rumney – Reuters
Follow us on twitter