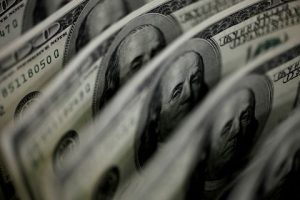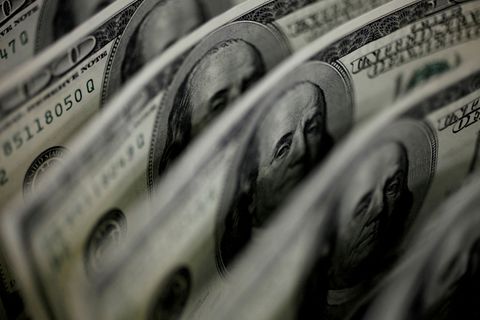 Singapore — The dollar struggled to make headway on Wednesday after a cut on the U.S. government's top credit rating by Fitch raised questions about the country's fiscal outlook, though it drew some support from a relatively resilient run of economic data.
Rating agency Fitch on Tuesday downgraded the United States to AA+ from AAA in a move that drew an angry response from the White House and surprised investors, coming despite the resolution two months ago of the debt ceiling crisis.
That nudged the greenback lower, lifting the euro toward $1.10. The single currency last gained 0.12%, after earlier touching a session-high of $1.1020.
Sterling steadied at $1.27755, while the U.S. dollar index rose 0.07% to 102.07, having slipped broadly in the wake of the Fitch news.
"We don't think the Fitch decision is that material. Certainly, we've seen the market move a little bit this morning … but over the near term, I don't think it's going to be a longer lasting driver," said Rodrigo Catril, senior currency strategist at National Australia Bank (NAB).
The dollar also found some support from Tuesday's economic data that showed U.S. job openings remained at levels consistent with tight labour market conditions, even as they fell to the lowest level in more than two years in June.
A separate report suggested U.S. manufacturing might be stabilising at weaker levels in July amid a gradual improvement in new orders, though factory employment dropped to a three-year low.
Elsewhere, the Japanese yen rose nearly 0.5% to 142.67 and looked set to reverse three straight sessions of losses, with traders still assessing the implications of the Bank of Japan's (BOJ) move on Friday to loosen its grip on interest rates.
BOJ deputy governor Shinichi Uchida said on Wednesday that the central bank's decision was aimed at making its massive stimulus more sustainable and not a prelude to an exit from ultra-low interest rates.
"I think the market is still trying to get their head around what this whole thing means," said NAB's Catril.
The Australian dollar fell 0.36% to $0.65895, having earlier slid to its lowest level since June, extending a sharp fall from the previous session after the Reserve Bank of Australia (RBA) on Tuesday held interest rates steady and signalled that it might be done tightening.
The New Zealand dollar similarly tumbled and was last 0.62% lower at $0.6112, after data on Wednesday showed the country's jobless rate hit a two-year high in the second quarter, easing the pressure on its central bank to continue raising rates.
Kelly Eckhold, chief economist at Westpac, said in a note on Wednesday that he now sees the Reserve Bank of New Zealand (RBNZ) raising rates in November instead of August, as recent data "have likely not been strong enough to overcome the RBNZ's strong bias" to keep rates on hold.
*Rae Wee, editing: Shri Navaratnam & Sam Holmes – Reuters
Follow us on twitter