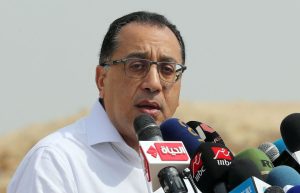 Cairo — Egypt's government will implement emergency moves, including rationing electricity and increasing fuel oil imports, as it bids to tackle a summer power shortage, the country's prime minister said on Thursday.
Egypt will import between $250 million and $300 million worth of mazut fuel oil to manage the power cuts, and will announce a plan to ration electricity in public spaces, Egyptian Prime Minister Mostafa Madbouly said on Thursday.
Further directives include a decision to compel some government employees to work from home on some days in August.
Earlier this month, Egypt's government announced regular power cuts as it tried to limit consumption during a heatwave.
Residents have reported power cuts in several areas in Egypt this month as temperatures have risen above 40 degrees Celsius (104 Fahrenheit) during a heatwave that has affected southern Europe and North Africa and coincided with extreme temperatures elsewhere in the Northern Hemisphere.
Egypt has rarely experienced power cuts since blackouts deepened discontent with then-President Mohamed Mursi around a decade ago.
The country has since invested in several Siemens-built power plants in an effort to revamp its ageing state-run infrastructure.
Madbouly explained that last year Egypt's maximum daily consumption of natural gas and mazut stood at 129 million cubic meters. In July, daily consumption reached as much as 152 million cubic meters.
"We have used up all that we have of mazut and have started using more of our natural gas," Madbouly said.
Last week, Petroleum Minister Tarek El Molla said that Egypt will start exporting natural gas again in the autumn as it deals with high domestic consumption in the summer.
Most of Egypt's production is consumed domestically in the summer when temperatures are high, but there are excess quantities available for export during winter, Molla said.
Madbouly denied that the power cuts came as a result of declining natural gas production or issues with its natural gas field Zohr.
"We're talking about extraordinary circumstances the entire world is facing and the degree of course changes for every country," said Madbouly.
The prime minister said that in addition to the new directives, power cuts are expected to continue in August, with the government to announce their schedule in the coming days.
(Reporting by Sarah El Safty, Alaa Swilam, Nayera Abdallah and Enas Alashray;Editing by David Evans and Conor Humphries) – Reuters
Follow us on twitter