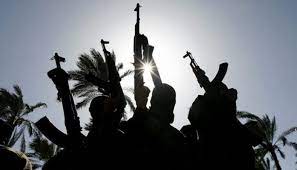 Vincent Toritseju
Lagos — Managing Director of MRS Oil Nigeria Plc and seven other members of staff, who were kidnapped last week Monday, have regained freedom.
SweetcrudeReports reliably gathered that they were released Sunday night. But it could not be ascertained whether any ransom was paid for their release.
Recall that the Oil company's MD, an Italian, a female staff of the Human Resources unit identified simply as Aisha and six others, were heading home in a private boat, after close of work, when the gunmen struck, on the Tin-Can waterways.
They were reportedly dragged out of their boat and whisked away in the kidnappers'.
Their private boat was later found in the Ikorodu area of Lagos, with their laptops and bags intact.
Since their abduction, the kidnappers as gathered, never got in touch with family members of their captives or the company until the fourth day.
However, when they eventually made contact, it was reliably gathered that they gave stern warning to their contact person never to involve the Police or other security agencies, threatening to go bloody if their directive was not adhered to.
It was reliably gathered that the contact person, a retired Army Colonel with the oil company, was also warned not to divulge their conversation with any private security men attached to MRS oil company and other affiliated companies.
Spokesman for the Lagos State Police Command, SP Benjamin Hundenyin, confirmed their release. He said no arrest was made.
But the Chairman, Lagos Maritime Security Zone of the Port Facility Security Officers Forum, PFSO, Mr Wole Gege, confirmed the incident.
Initial effort Efforts to get update from the company and the Police failed as both sides kept mum, stating simply that investigation was ongoing.
He informed that as of yesterday, Wednesday, June 28,2023, nothing had been heard from the kidnapped employees.
He also stated that family members of the affected employees had been informed.
Gege said " We hope we will get an update soon. Security authorizes have been alerted of the development and have begun investigation"
Spokesman for the Lagos State Police Command, SP Benjamin Hudenyin, also confirmed the incident when contacted. But he did not give further details .
Follow us on twitter