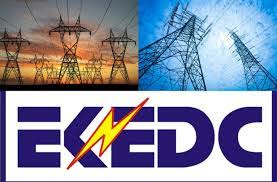 OpeOluwani Akintayo
01 March 2019, Sweetcrude, Lagos — The management of Eko Electricity Distribution Company, EKEDC on Thursday, issued a final warning against conducting activities under and within the perimeters of High Tension, HT power lines.
It also advised that such areas be vacated with immediate effect.
The warning was issued in a statement signed by the General Manager of Corporate Communications, Mr. Godwin Idemudia in Lagos.
Idemudia said the decision was in a bid to remain committed to the safety of lives and properties.
According to him, "Eko Disco has embarked on several safety enlightenment campaigns that emphasise the hazards involved in building, trading, loading vehicles, hoisting flags, installing antennas and planting trees around electricity installations.
"We place a high premium on the lives and properties of people within our network."
Also Read: NERC adds 6 new firms to 'No Objection' list
http://sweetcrudereports.com/2019/02/28/nerc-adds-6-new-firms-to-no-objection-list/
Idemudia reiterated the dangers of being within the safety clearance space advised by the company and other electricity bodies.
He urged the public to steer clear from HT power lines, as it is mandatory to keep the distance of 5.5 meters on both sides of 11kv and 33kv HT power lines, and 25 meters away from 330kv HT power lines.
Idemudia also said EKEDC had been directed by the Nigerian Electricity Management Services Agency, NEMSA, to disconnect public power supply systems of any structures, buildings, premises built under HT power lines.
He noted that also affected, were those within the right of way of the power line which he described as a possible inconvenience to customers in the said areas but a necessary measure nonetheless.
Also Read: 44 eligible customers demand for 600 megawatts of electricity
Idemudia urged members of the public to report these hazardous activities through its whistle-blowing platforms which could also be used to reveal illegal and unethical activities such as energy theft and extortion.
Like and follow on facebook & twitter