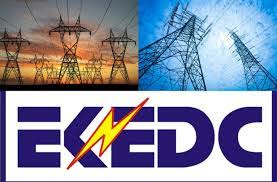 OpeOluwani Akintayo
22 August 2018, Sweetcrude, Lagos — Eko Electricity Distribution Company Plc, EKEDC, has urged customers to embrace modern electronic payment for electricity consumption, as it works towards eliminating cash payment.
Mr. Joseph Esenwa, the company's Chief Financial Officer, disclosed this in Lagos, saying the effort was to reduce payment queues at some of the EKEDC offices.
He said that embracing the electronic payment option would make customers enjoy conveniences.
Esenwa enjoined customers to take advantage of new multiple payment channels being provided by the company to ensure convenient and seamless payments and purchase of tokens.
He explained that the new payment options were designed to offer all customers security, greater convenience, and choice, and also intended to make the payment process more efficient.
According to Esenwa, the company is working towards stopping receiving cash payment in its offices because it has provided many robust options for customers to pay electricity bills.
"There is really no need to come to the office for payment. Customers will save themselves from the inconvenience of being defrauded if they always make payments through our approved channels and collect their receipts
"By expanding our payment platforms, customers can now make payments and purchase tokens seamlessly by using scratch card vouchers. These are sold by vendors and agents across its networks.
"An example is Quick teller which can be accessed on mobile devices and through internet banking on online banking portals. We are committed to providing our customers with the greatest level of customer service and introducing these multiple secure and convenient payment channel is yet another aspect of our service offering,'' he said.