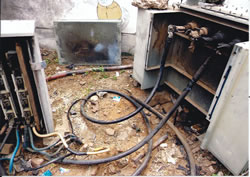 16 February 017, Abuja – A Federal High Court sitting in Abuja has handed a two-year jail term to one Emmanuel Alao, who was found vandalising an Abuja Electricity Distribution Company's substation in Utako District of the Federal Capital Territory.
Alao, who was arrested on the December 24, 2016 by an official of the Nigerian Security and Civil Defence Corps, was charged to court for contravening Sections 1(a) and (10) of the Miscellaneous Offences Act (2004), which prescribes life imprisonment as maximum punishment for the offence.
In a statement issued by the Head, Public Relations and Media, AEDC, Mr. Ahmed Shekarau, the convict was paraded with numerous items found in his possession, which included meter cables, power conductors, transformer bars, handsaw blade and bolt socket spanner.
The AEDC further stated that on January 18, 2017, the NSCDC preferred a one count against the convict in the case of the Federal Republic of Nigeria and Emmanuel Alao, with the Charge No: FHC/ABJ/CR/01/2017 before the Federal High Court.
Delivering judgment in the case, after the accused person had pleaded guilty to the charge, the court sentenced him to two-year imprisonment with hard labour, being a first offender.
"This conviction, which the AEDC considers as a milestone in the fight against vandalism, is coming on the heels of incessant acts of vandalism of electrical facilities, which became very rife in the Federal Capital Territory in the last quarter of 2016," Shekarau said in the statement.
He added, "In Wuse alone, for instance, over 18 substations were vandalised with several meter cables and other accessories carted away by the vandals. Every successful act of vandalism puts both the customers and the AEDC at the receiving end of this anti-social act and economic sabotage."
The power firm, in the statement, said it remained steadfast in the fight against vandalism, and implored members of the public to be vigilant and report suspicious activities around power installations in their areas.
It also assured the people that it would continue to partner security agencies in its quest to curb the rising incidence of vandalism.