11 November 2014, Abuja – The Manufacturers' Association of Nigeria, MAN, yesterday cried out to the Federal Government to review the multi-year tariff order, MYTO II, released in June 2014, containing the discriminatory fixed and average charges, saying the charges are suffocating the sector.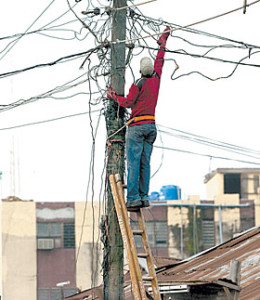 The President of MAN, Dr. Frank Jacobs, who made the remarks during a visit to the Minister of Power, Professor Chinedu Nebo in Abuja, insisted the rate should be reduced.
He observed that in spite of some noticeable improvements in electricity supply, industrial areas have not fared better as many depend on the purchase of exorbitant diesel to power industrial generating sets, saying that this practice is pushing up cost.
MAN also requested the Minister to intervene in the reviewed MYTO II, released in June 2014, wherein NERC failed to address its discriminatory fixed and average charges, saying that it is either the rate is brought down or prorated on the amount of energy consumed, as the current regime is choking Small and Medium Scale Industries.J
Jacobs described the Power Ministry as a strategic partner in the development and growth of the manufacturing sector in Nigeria.
He acknowledged the positive role of the power sector for the performance of manufacturing which has recently shown in the Gross Domestic Product (GDP) contribution and capacity utilization.
He also commended President Goodluck Jonathan's administration for the bold steps taken in the sector, stressing that with the support of the Power Ministry and other line agencies, the manufacturing sector is set for better performance.
Responding, the Minister of Power, Professor Chinedu Nebo assured the MAN delegation that NERC under his watchful eyes will not be allowed to profiteer on Nigerians, as government will put mechanism in place that will assist small and medium scale enterprises grow.He appealed to MAN to sensitize its members to think about investing in renewable, adding, "some companies can effectively power their plants using solar, it is now time for our business men to think outside the box; in the long run whatever they invest, will be recouped. "Diesel is not the solution; we must utilize our God given potentials to drive our industrial revolution", he said.
According to him, "other climes like Germany, do not have half the intensity, yet solar energy has been utilized effectively by companies, there is even integrated system now which is an admixture of biomass, solar and inverter.
"Studies have shown that many industrial concerns in Nigeria today spend large crunch of their production cost on diesel."
The Minister assured MAN that in a matter of years, money invested to build solar power plant could be recouped, after which industries will be using free electricity.